VIP Bonus Downloads
February 2010 - Bonus Album!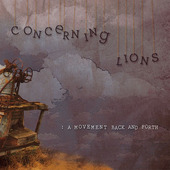 Concerning Lions
A Movement Back And Forth
On the first track of Concerning Lions' debut EP, A Movement Back and Forth, singer Brian Beise implores: "Meet us." "Canon" offers a salutation of acoustic strumming and stretchy electric yawns, punctuated by banjo interjections and the occasional tambourine jingle, suggesting the Tennessee mountains from whence these Lions hail. With lyrics name-checking Tolkien, Lazarus and plenty of Death, Beise channels a bit of Jeff Buckley's moody wail in "Dragons" and hints at his quivering vibrato on "Rolling Storm, Titan Sigh." — Rachel Bailey
Worried about sound quality? Don't be. These MP3s are encoded at 320kbps, the highest quality allowed by the MP3 standard.
Track Listing
Canon

Dragons

Rolling Storm, Titan Sigh

Holy Africa

Lazarus
Download the Bonus Album
Previous Bonus Downloads