VIP Bonus Downloads
January 2009 - Bonus Album!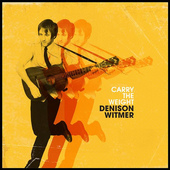 Denison Witmer
Carry The Weight
Witmer has mastered the early '70s introspective, brooding singer/songwriter template, and from a musical and production standpoint, his earnest songs compare favorably with those of Browne and his confessional descendants. "From Here On Out" is an acoustic guitar- and piano-dominated ballad that could've been lifted from the Jackson Browne songbook circa For Everyman, while "Song of Songs" employs the hushed singing and lovely counterpoint vocals that often characterize Sufjan Stevens' more folk-oriented compositions. Near the end of the album, the fragile music and pensive, finely realized lyrical details of "Chesapeake Watershed" combine for a perfect snapshot of rootlessness and ennui. — Jason Killingsworth
These MP3s are encoded at 192kbps.
Track Listing
Beautiful Boys And Girls

Life Before Aesthetics

From Here On Out

Carry The Weight

Ins't It Poetry?

Catholic Girl

Song Of Songs

If You Are The Writer

One More Day

Chesapeake Watershed

Carry The Weight (Acoustic)
Download the Bonus Album
Previous Bonus Downloads