VIP Bonus Downloads
February 2009 - Bonus Album!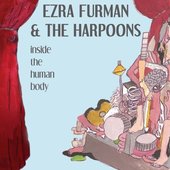 Ezra Furman & The Harpoons
Inside The Human Body
If you're Ezra Furman, you're right out of college and the man in the grey suit threatens to steal your soul, so you fend off encroaching suburbia with a batch of new tunes. On his second album of jittery, willfully naive folk-punk, Furman plays the alienated romantic geek, employing a wobbly sense of pitch to better effect than anyone since the early Violent Femmes. "We Should Fight," the great howling mess of an opener, sets the tone, all raw guitars and protestations of uncompromising humanity. The rest of the songs—alternating between strident rockers and swooning ballads—are overwrought, goofy, achingly sincere and totally original. Even his failures are charmingly his own, like the damaged sea chantey that erupts in the middle of "The Dishwasher," an otherwise meandering folk ballad. Real life will intrude soon enough for Furman. Thankfully, he appears committed to spending the interim bashing out songs, working on his poet- laureate credentials and celebrating the sheer, giddy wonder of being young and alive. — Andy Whitman
These MP3s are encoded at 192kbps.
Track Listing
We Should Fight

Take Off Your Sunglasses

The Stakes Are High

The Dishwasher

The Faceless Boy

Big Deal

If I Was A Baby

The Worm In The Apple

The World Is Alive

Springfield, IL

The Moon

Weak Knees
Download the Bonus Album
Previous Bonus Downloads