Artist Discovery Series
December 2009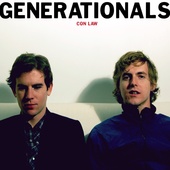 Generationals
Con Law
After the breakup of indie rock outfit The Eames Era, New Orleans natives Grant Widmer and Ted Joyner returned home to form Generationals. Big Easy-based Park the Van Records promptly signed them and released their debut album Con Law on July 21, 2009. Paying loving tribute to influences from a bygone era like Phil Spector, George Martin and Quincy Jones, Eames founder Daniel Black has meticulously produced an album for the group that draws out the resonant sounds of a cherished '60s LP. Songs like the horn-laden "Nobody Could Change Your Mind" and the Motown girl-group sensibility of "When They Fight, They Fight," articulate their modern approach to the best of vintage rock. — Emily Riemer
Worried about sound quality? Don't be. These MP3s are encoded at 320kbps, the highest quality allowed by the MP3 standard.
Track Listing
Nobody Could Change Your Mind

Angry Charlie

Faces In The Dark

When They Fight, They Fight

Our Time 2 Shine

Wildlife Sculpture

Bobby Beale

Exterior Street Day

It Keeps You Up

These Habits
Download the Artist Discovery Album
---
About Artist Discovery Series
Every month Paste VIP members get to download a new album that we think they need to hear.
Previous Downloads