Exclusive Downloads
---
VIP Exclusive Downloads
Every week Paste VIP members get to download an exclusive MP3, recorded right here at the Paste office.
This Week's Download
Artist:

Harlem Shakes


Track:

Technicolor Health


Recorded Live at Paste 03/05/09
Description:It's easy to compare Harlem Shakes to 2008's buzz darlings Vampire Weekend— both bands feature Ivy Leaguers pumping out impossibly catchy dance-rock— but with the recent release of debut album Technicolor Health, the Shakes have been getting plenty of attention in their own right. During their performance at Paste, the guys went with a decidedly stripped-down version of the album's title track, making it sound less like a Saturday night and more like a Sunday morning. It's a dangerously catchy tune from a delightfully energetic band.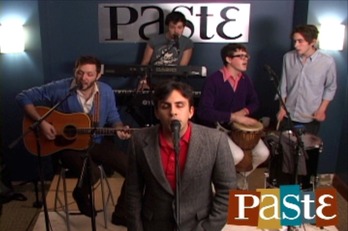 Worried about sound quality? Don't be. These MP3s are encoded at 320kbps, the highest quality allowed by the MP3 standard.


Song originally from Album:
Harlem Shakes -
Previous Downloads