VIP Bonus Downloads
April 2010 - Bonus Album!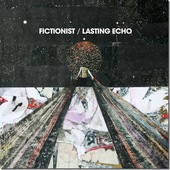 Fictionist
Lasting Echo
Lasting Echo, the second full-length album from the Utah band Fictionist, is full of friendly pop-rock features and layered instrumentation marked by Wilco-esque guitars. The songs range from shimmering, quiet ballads ("Have Mercy") to anthemic speaker-blowers ("Well Made Shadow"), and while the lyrical sentiments may be straightforward, the music itself is not. It winds through classic rock guitar riffs, prog-rock arrangements sparkling pianos and intricate rhythms, building up and breaking down like an ever-moving nomad across the album as a whole—even within individual songs. — Lindsey Lee
Worried about sound quality? Don't be. These MP3s are encoded at 320kbps, the highest quality allowed by the MP3 standard.
Track Listing
Always

Human Wings

Blue-Eyed Universe

Sunshine of a Shell

Strangers in the Dark

The Well-Made Shadow

Time to Time

Suffering Angel

Deeper and Deeper

Fire Don't Set You Free

Have Mercy
Download the Bonus Album
Previous Bonus Downloads