VIP Bonus Downloads
November 2008 - Bonus Album!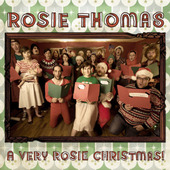 Rosie Thomas
A Very Rosie Christmas
Rosie Thomas' Christmas gift to us includes gorgeous takes on Christmas standards ("Let it Snow," "Winter Wonderland"), lovely twists on carols ("O Come Emmanuel," "Silent Night"), a couple of originals that fit snugly in the Christmas canon ("Why Can't It Be Christmastime All Year," "Alone At Christmas"), and even a comedy sketch from her alter ego Sheila Sabuda ("Sheila's Christmas Miracle"). With guests ranging from her brother Brian to fellow Sup Pop alum Damien Jurado, it's a merry affair indeed. — Josh Jackson
Worried about sound quality? Don't be. These MP3s are encoded at 320kbps, the highest quality allowed by the MP3 standard.
Track Listing
Christmastime Is Here

Why Can't It Be Christmastime All Year

River

Winter Wonderland

Silent Night

O Come Emmanuel

Snow Day

Alone At Christmastime

Christmas Don't Be Late

Let It Snow

Sheila's Christmas Miracle

Rosie's Christmas Wish
Download the Bonus Album
Previous Bonus Downloads