Emily Saliers & Amy Ray
The Indigos Return Home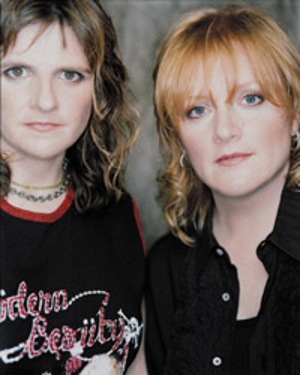 On Tuesday nights in Decatur, Ga., patrons in the upscale Watershed restaurant tend to order only one thing -- the fried chicken. Chef Scott Peacock begins preparing the birds three days in advance, soaking them in buttermilk and frying each one individually in lard. The result is both familiar and much richer than you expect. His boss, restaurant co-owner and Indigo Girl Emily Saliers, has put out an album that strikes you in much the same manner.
On Become You, Saliers and her songwriting partner, Amy Ray, have gone back to the folk-rock roots of their Grammy-winning self-titled debut and away from the slickly electrified sound of 1999's Come On Now Social. For all of us who wore out our cassette tape copies of Indigo Girls years ago, their latest has the familiar harmonies, hooks and hummability from a band that has spent the last 17 years developing their craft.
Since Saliers has generally provided the softer edges of each Indigo Girls album, Paste was a little surprised to hear the new restaurateur say that Ray was the one pushing for a rootsier album, and Saliers, the master of dreamy folk ballads, was the one who took a little convincing.
"Amy had been wanting to make an acoustic record for a while," said Saliers. "In fact, she wanted to make it even when we were recording Come On Now Social, but I just wasn't in the place to do that exactly, so Come On Now Social is a lot more electric and produced. And then we knew the next record we would make would be very acoustic."
The duo recorded with Peter Collins, along with drummer Brady Blade, Clare Kenny on bass and Carol Isaacs on keyboard. Much of the album was captured live. "There's a sonic cohesion and a vibe to the record that I think you can only achieve by stripping it down and playing it all together," Saliers said.
Become You was the first Indigo Girls record in a while to be recorded in their hometown, and with only one more release on their contract with Epic, the budget was much smaller. "I think, at this point," Saliers said, "we wanted to just go home and sleep in our own beds at night. There was a point earlier in our career where recording in Atlanta would have been too distracting for me. But we have a pretty good balance of the whole picture, being the veterans that we are. ...I like that I can come home, and -- even though Amy doesn't do this -- I'd play the rough-cuts for my friends -- 'Do you like this? Do you like this?' If I were recording far away, I couldn't do that."
The title track, written by Ray, deals with coming to terms with her Southern heritage. She's a fourth-generation Southerner and proud to live in the birthplace of the civil rights movement. But there's much about the South that is harder to take, according to Saliers.
"She wrote that song because she lives out in the woods, and she's got a neighbor who's always draped in different Confederate flags, things like a hat or a shirt or a bandana. She wrote it a lot about how they get along -- they're neighbors. She's gay, and she's liberal and anti-flag. But here they are, having to live together, and the dialogue they have is an important thing -- the interaction between people who have different belief systems but don't end up killing each other like the way a lot of the world operates."
Saliers, who wasn't born in the South but moved there very young, has her own perspective. "There's a mystique that's probably best captured by the great Southern writers like [William] Faulkner and [Flannery] O'Connor. It's hot and swampy, and you can't quite put your finger on it. And there are secrets, and there's the tie to the land."
What hasn't changed with this album is the political activism that bluntly makes its way into many of the songs. The Indigo Girls have tackled injustice where they've encountered it. At every Indigo Girls concert, tables are filled with literature on a number of issues from gun safety to the death penalty to nuclear weapons to environmental issues. The record sleeve lists ways for individuals to get involved in any of these areas. And they make a habit of playing benefit shows and speaking out from the stage.
"We want to bring justice," Saliers said. "Even if we weren't musicians, we'd be activists in whatever walks of life. We feel so strongly about these issues that they wind up a lot of times in the songs....Music is a very powerful catalyst for change in ways that can't be exactly articulated. But I know when you come to a show -- especially a show that's been designed to talk about an issue -- we're playing music, and everyone's together. We're singing and thinking about these things, and they're shown images of some of the problems related to the issues. And then they find access out in the lobbies on how they can make a change. It's just a very powerful, well-rounded tool for getting involved."
The songs that aren't issue-oriented deal deftly with relationships. Saliers confessed that these come much easier, though both types can be equally satisfying.
"If you're in the space to write a socially conscious anthem, and you write a song that you feel sort of captures what you're going after, it's gratifying. In the same way, it's gratifying if you're feeling reflective and you can capture what you're going after. And sometimes, during the course of an evening, playing a socially conscious song is exactly the right thing to play for your heart and for the people who are there. You don't feel like playing a ballad. I don't feel like singing 'Power of Two.' I feel like singing 'Become You.' Thankfully we have both in the roster, and we can go back and forth."
One of the most stirring songs on the album is the Saliers-penned "Our Deliverance." She began writing the song as a reflection on basic images of faith and struggle and perseverance. But after September 11th, it turned into an anti-war song.
"I was so saddened and horrified by those events and then horrified by our response as a government. And the intensity of conflict all around the world just got to me, and so the second half of the song became a response to that. It's really about putting a human face on conflict because in order to commit atrocity, human beings have to dehumanize each other. And it's about saying, 'Look at all the blood that's been spilled, and it's come to nothing.' So it's a rally cry for peace, actually."
She sings, "There is no nation / by God exempted / lay down your weapons / and love your neighbor as yourself" and "we may be looking for our deliverance / but it has already been sent."
"The love exists within us," she explained. "The power to change exists within all of us. If we work hard toward justice and goodness and not killing each other and not responding with warfare and violence, the deliverance is already here. We just have to tap into it. And tapping into it means overcoming your fear, including, from a militant Islamic point of view, fear of Western influence and degradation of their faith. And in terms of us and our government's response, fear of these fanatics who will kill innocent people for nothing. Valid fears, but fears have to be overcome in order for change to be made. It's idealistic and hopeful, but I can't help myself. There's got to be a better way."
Her idealism and the support of strong friendships, including that of Ray, promise to keep the Girls going for many more years. Their writing and playing styles have proved to perfectly complement each other since they began strumming their guitars in tiny clubs a decade and a half ago. Now they have their side projects -- a restaurant for Saliers, a record label for Ray -- but it's the passionate hooks and harmonies that will continue to keep an extremely loyal fanbase singing along.
Others Tagged With