Kelly Willis
Making It Look Easy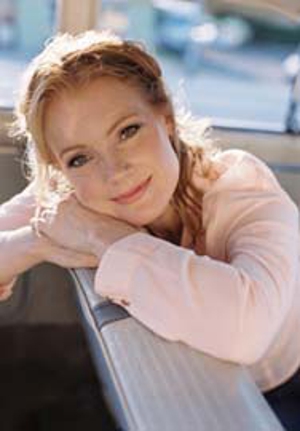 As music enthusiasts debate what exactly makes country music truly "country," Kelly Willis continues to bridge the gap between diehard country fans and those who won't let even their ten-foot poles touch most twangy Nashville-related stuff. Willis, an Austin-based singer-songwriter with strong traditional music roots, is as at home with a folksy Paul Westerberg or Nick Drake ballad as she is with a George Jones-inspired country weeper. On her second Rykodisc album, Easy, the high quality of its songs and performances are beyond all debate.
Rykodisc's marketing of Willis' music hearkens back to a time when good music and its audience united much more naturally. She's more than a little disturbed by the overtly artificial atmosphere of today's music scene. "Everything feels like it's something somebody's trying to sell you," Wills complains. "Before, it used to feel like the music somehow found its way to you; now it's just sort of being force-fed with some girl that could be a model, in clothes that you could never find off a rack anywhere. It's weird now."
Willis initially intended for Easy to be a no-holds-barred, straight country album, but her undeniably eclectic streak once again took hold.
"I really felt like I hadn't done that yet, and I wanted to," Willis explains. "But it didn't happen this time around. But I think it was still a good place to start from. It probably would have had more of a honky-tonk feel to it, with more shuffles and more twangy guitar, probably." The album instead leans toward Shawn Colvin territory, except with slightly more of a Southern accent driving it.
Oddly enough, she never made such a wholly traditional-sounding album back during her days spent on the MCA Nashville label. And while Willis's independent nature stood out distinctly from the cookie cutter line-up of the so-called country music town, it would still be hard to imagine albums like her new one, or its predecessor, What I Deserve, coming out of Music City.
"I got to do a lot of stuff at MCA that I think a lot of people didn't get to do," Willis says of her Nashville phase. "I was also discouraged from a lot of stuff, so I'm not so sure what would have happened. They might have let me do that [non-country material] for album filler. I know, however, that I wouldn't have made the entire album that I wanted to make."
After trying unsuccessfully to fit into a limiting Nashville definition of country music, Willis needed a kind of artistic free will more than anything else.
"I think that I needed to be in the trenches like that. I needed to not have any really strong- minded opinions in there. Like originally, I was on A&M Records, and I was gonna be making this record [What I Deserve] with a lot of the same songs, and T Bone Burnett was gonna produce it. And I'm really glad that didn't happen, because I would have just given way to somebody else's vision. Obviously, the man's brilliant. But I think I would have made his record, and not mine. And I really needed to make mine."
If What I Deserve was her declaration of independence, Easy is her vote of self-confidence, since she took sole writing credit for about half its songs.
"A lot of the songs that I wrote for the last album, I co-wrote," Willis recalls. "Part of me wasn't going to let anyone hear those songs until Gary Louris [of The Jayhawks] or somebody was willing to put their name on them. This time I thought, 'Well, hell, it sounds good, so I think I'll go ahead and let somebody hear it.' I just felt better about my abilities this time."
Willis may have begun her career as a singer with an ear for great songs, but she's quickly adapting to the earned title of singer-songwriter. The oddly gentle nature of the breakup song, "If I Left You," and the undeniable hopefulness of "Reason to Believe," back up her decision to stick to her guns as a lone songwriter. These are highlights on an already strong album.
And with the ability to consistently fill her albums with top quality songs, Kelly Willis is oh, so Easy for both hillbillies and city folk to love.
Others Tagged With