20 Signs of Life in 2002
Number 13 - Norah Jones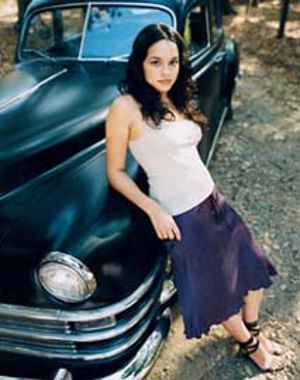 When Blue Note invited the world to "come away" with newcomer Norah Jones last February, the jazz label probably didn't expect nearly four million paying customers to take them up on their offer, surpassing classics like Miles Davis' Birth of the Cool and John Coltrane's Blue Train to make it the best selling album in their 63-year history. The 23-year-old pianist/vocalist's initial release has captivated listeners up and down–and off–the radio dial with her refreshingly unique–yet familiar–brand of comfort music. Other than the left-field success of the O Brother, Where Art Thou? soundtrack, few albums have been similarly embraced by fans of all ages and genres. Baby boomers have eaten up Come Away with Me's throwback vibe, which triggers aural images of Billie Holiday crooning over a crackling Victrola, and aficionados are drawn to the traditional jazz instrumentation and tasteful distillation of Americana and blues. Jones' angelic wisp has even managed to transcend the taunt-rock and slut-pop currently being force-fed to the TRL set. A compelling voice is often the common denominator in the popular music equation, which certainly explains Come Away with Me's chameleon-like appeal. From the purring pillowtalk of John Loudermilk's "Turn Me On" and the Texas waltz of "Lonestar" to the ethereal "Nightingale," her vocals are equal parts Saturday night and Sunday morning –carrying the simultaneous temp of a dry martini and the composed reflection of a percolating pot of coffee.
Her seemingly never-ending tour/publicity log has criss-crossed both the globe and audience boundaries. Aside from becoming the reluctant darling of AAA radio and VHI, the demure Jones has opened for the Dave Matthews Band and John Mayer, appeared as a featured act at the Bonnaroo hippiefest and participated in TV tributes to Willie Nelson and Elvis. She even lent vocals to studio releases from Charlie Hunter and the Dirty Dozen Brass Band. In each setting, she has quietly stolen the show.
And though sales of Come Away with Me show no signs of slowing down anytime soon, Jones appears to be looking ahead. A handful of road-tested new songs hints that she's hitting her stride as a songwriter (only "Nightingale" and the title track are Jones originals), and that her sophomore effort might shed some of Come Away With Me's jazz veneer. Yet regardless of which creative path Jones chooses to take next, chances are she'll have a few million followers.
Others Tagged With