20 Signs of Life in 2002
Number 2 - Wilco - Yankee Hotel Foxtrot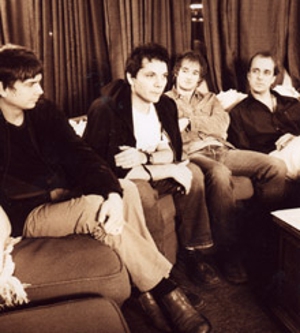 At a time when record companies and radio conglomerates have, for all intents and purposes, conspired to determine what the nation's listening habits will be, Wilco's Yankee Hotel Foxtrot emerges as a truly subversive artifact.
The title is no accident. "Yankee Hotel Foxtrot" was a phonetic alphabet used by NATO to transmit coded messages to spies via short-wave radio. Wilco's message is at once a hopeful benediction and dire warning: good music offers salvation, but ignoring its aesthetic appeal in favor of profits will continue our national slide into soulless mediocrity.
A veritable mini-history of rock informs the record -- the Beatles-like harmonies of "Heavy Metal Drummer," the Stones' riffs on "I'm the Man Who Love You," the punk-like cacophony of "Poor Places," the country touches of "Jesus, Etc.," and even 80s-style synth pop in "Pot Kettle Black." It's at once new and familiar, comfortable and disconcerting.
It also recalls the Clash's 1979 masterpiece, London Calling. That stylistically diverse record was a clarion call of rebellion against punk's growing conservatism. Like that record, Yankee Hotel Foxtrot suggests that a rebel attitude need not be regimented to any one style. In our current Orwellian era, when "alternative" means precisely the opposite, Wilco's encyclopedic use of styles has synthesized into a record more ominous than a rock block full of screaming Stainds and Linkin Parks.
Wilco's leader, Jeff Tweedy, went through this before. As a founding member of the seminal early '90s country-punk act, Uncle Tupelo, Tweedy said he and co-founder Jay Farrar decided to make their third record -- March 16-20 -- an all-acoustic, traditional one because that music was "scarier than Henry Rollins (of Black Flag) could ever be."
That same ethic informs Yankee Hotel Foxtrot, even if the music has changed. On the record's most intense track, "Poor Places," Tweedy sings a harrowing note of understated foreboding -- "It's hot in the poor places tonight / I'm not going outside" -- while a disembodied British woman drones "Yankee … Hotel … Foxtrot" against an increasingly clamorous surge of feedback. It sounds like the orchestrated madness at the end of the Beatles' "A Day in the Life," updated into today's global uncertainty. The effect is apocalyptic, a theme repeated even on the record's upbeat tunes: "No, it's not okay," drones the out-chorus of the bouncy "Kamera."
But Yankee Hotel Foxtrot stands as a parable for what non-formulaic records -- no matter how inspired -- go through just to get a shot at a mass audience. It languished undistributed for several months while Wilco streamed it on the Internet to rave reviews. Reprise got a rare second chance when its subsidiary (Nonesuch) picked it up after a bidding war, in effect paying twice for the same music.
Will this record save the industry? Unlikely. But it does prove that sometimes the music still matters.