Diana Krall - Live In Paris
Verve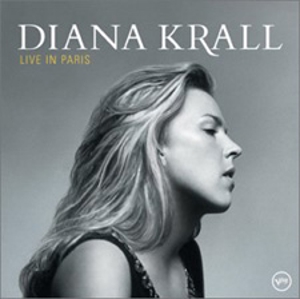 Jazz's living doll Diana Krall has always seemed a reluctant diva, more at home onstage experimenting with classic songs, swinging rhythms and throaty deliveries. On Live in Paris, her swing-sing and nuanced, dexterous piano playing are in evidence early on, especially on the opening "I Love Being Here With You." During her smooth but robust attack on "Deed I Do," one can imagine Nat Cole's ghost nodding with sublime approval.
Given Verve's relatively sterile productions, one would expect that Krall would be surrounded here by orchestrated ambiance that meddles with intimacy. The pop-lite string fills from the Orchestre Symphonique Europeen spoil good chamber jazz only twice, however (especially during "Let's Fall in Love"), so that Krall's musical symbiosis with her tight rhythm section—including the bluesy John Clayton on bass, the steady Jeff Hamilton on drums, and the tidy Anthony Wilson on guitar—can be fully witnessed.
In the meantime, Krall croons blue notes heretofore reserved for Cassandra Wilson (in Joni Mitchell's "A Case of You"), whispers wispy ballads, and even scats a bit—a welcome return to her early form, before market-driven pressures took over.
Others Tagged With