KEXP Seattle
What Music Radio Could Be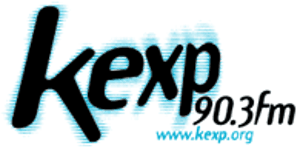 It's the last day of the fall pledge drive at noncommercial FM station KEXP Seattle, and as is usual on Saturday mornings, reggae pours out from the broadcast booth, over the airwaves and around the world on the Internet.
Behind the board, DJ Kyle "Kid Hops" Hopkins has so much going on that an extra arm would be handy. He digs for vinyl—most of what's heard on Positive Vibrations comes from his own collection of 12-inch sides—cues up CDs, types every song, album and label into an automated playlist continuously posted on the Internet, answers e-mail and runs the board. He also has to say something interesting on the mic now and then.
Fortunately he has help, at least today, from fellow DJ John Richards, a popular morning host who holds sway on weekdays. And true to form, Richards is taking the opportunity to have some fun, cracking on stereotypes of reggae fans.
"Get out of your van, find a pay phone, and call," says Richards, stifling a giggle.
A few moments later, the stereotypes fall apart when Membership Director Cheryl Waters walks in to announce a $1,000 donation, well on the way to exceeding the pledge drive goals for the program, as defined by the number of people responding.
At many public radio stations, pledge drives are grim, as employees fight to keep their endeavor alive in the face of seeming public indifference. But as this particular morning at KEXP illustrates, the drive boosts staff morale as they see their audience embrace the station and its mission.
That mission? "To culturally enrich people's lives, provide listeners with a meaningful experience and to become the nation's most significant eclectic music station." As the station's DJs put it on the air, it's "where the music matters."
"[The pledge drive] gives me energy," Richards says. "It totally reminds me why I'm doing this. I also get to rip into commercial stations, which I love."
A new old approach
In its approach to programming, KEXP relies on methods so much a throwback to the past that they seem fresh. DJs help program their own sets, play requests (even for artists not currently "in rotation"), develop a rapport with their audiences and champion bands they deem worthy.
There are no computer-formatted playlists, "indie" radio promoters paying for airplay, market research or overpaid consultants. The station also is remarkably free of such left-of-the dial annoyances as under-informed DJs who can't pronounce artists' names, programming that jars listeners with chill-out electronica sequenced next to thrash-metal and a lack of humor.
At the same time, KEXP has taken a pioneering role in its use of online technologies such as streaming media, archiving and real-time use of the Internet to take its approach to everyone in the world who finds it worth supporting.
The result pays rich and often unexpected dividends. As Kid Hops cuts and backcues a pair of dub sides on his turntables, a volunteer visible on a closed-circuit television holds up a card that says: "SWEDEN."
"Someone just pledged from Sweden," Hops says. "That just totally blows me away."
While the pledge raises eyebrows, the station's reach is broad enough to make it happen without too much difficulty. Maps in the broadcast booth covering the U.S. and the world and labeled "KEXP's Internet Audience" have red pins stuck in points ranging from Kandahar to Antarctica to Ulan Baator, Mongolia, in addition to a dense scattering across Europe and the U.S.
Hold the Hendrix, please
KEXP has Microsoft cofounder Paul Allen partially to thank for its ability to develop a listening audience limited only by the spread of the Internet. In 2001, Allen's Experience Music Project entered into a partnership with the station, provided up to $600,000 in funding over four years and enabled it to move from cramped facilities on the University of Washington campus to a well-appointed rent-free studio in downtown Seattle.
"It's seed money to invest in higher level of programming and fundraising," says Tom Mara, the station's executive director. "In year one, about half of our operating budget is subsidized. In year two, it's 30 percent. And in year three we should be self-supporting."
Although the move had tongues flapping in Seattle, some predicting an increase in Jimi Hendrix on KEXP's airwaves in keeping with Allen's tastes, EMP's support has worked as promised, with the station retaining control over its programming and overall identity.
However, with additional resources—including a performance studio better than those at some commercial stations—the station now can host in-studio guests several times a week and can pay enough to retain a staff of regular weekday DJs. In return, KEXP offers its airwaves to EMP for announcements of upcoming events, short educational segments, and regularly has its DJs on-site at EMP for remote broadcasts or just to spin at EMP's "Liquid Lounge."
Meanwhile, each pledge drive breaks the records set by the last one. "It's validation for what we do," Mara says. ""It's important to have a variety of [funding] sources. The seed money has brought us to the next level, and we'll continue to ask listeners to support us."
High-tech test bed
That variety of support also includes the University of Washington. In a typical college radio station, staff members would be volunteers and would come from the ranks of a university broadcasting program.
But UW has no broadcasting programs. Instead, student involvement comes from the university's Computing and Communications department, which holds the station's license. Since taking ownership of the station in 1999, C&C students have successfully used KEXP in experimental efforts in streaming media and other Internet-related projects. One of the six live audio streams the station currently offers in four different formats is the world's first uncompressed, CD-quality stream, which requires a 1.4-megabyte high-speed connection to access.
"It was really just a proof-of-concept," says Vickie Nauman, director of KEXP Online. "I don't know how long we'll keep it."
But the station definitely is keeping its other useful innovations, like its two-week streaming archive, archived in-studio performances, informative Web site, and perhaps the most useful feature of all, the real-time playlist.
"The most frequently asked question from our listeners is 'What was that song you just played?' because the artists we play aren't all that common," Nauman says.
A page on the station's Web site lists the artist, song and label, with a space for DJ comments and the time the track was played. The page automatically updates every few minutes to keep listeners abreast of what's streaming.
The first version of the tool consisted of a database and Web publishing system, but DJs still had to type in most of the information. But version 2.0 reads a CD the moment a DJ presses "play" and pulls the track data from CDDB—an online information source—giving the DJ a few minutes to enter comments before automatically publishing.
"The tool will really help us when we have to start reporting for CARP," Nauman says.
Industry CARPing
And that, again, brings up the subject of funding. CARP, or the Copyright Arbitration Royalty Panel, was set up by Congress in 2001 to apply 1998's Digital Millennium Copyright Act to online music streaming when Webcasters and record companies couldn't agree on royalty terms.
CARP's ruling, issued in February 2002, effectively ran many Internet-only broadcasters out of business with an exorbitant rate of $0.14 per listener per song. For a mid-sized Internet-only Webcaster with an average audience of 1,000 listeners for three years, the bill for retroactive royalties would come to $525,600, according to Kurt Hanson of SaveInternetRadio.org. For mom-and-pop stations getting by on scattered donations, that was too much to bear.
"The RIAA [Recording Industry Association of America] said they weren't trying to shut down the little guys, but that's what they did," Nauman says.
KEXP escaped CARP's axe through its affiliation with National Public Radio. But at this writing, the station still will be subject to onerous new reporting requirements, which require it to record and report all songs. In addition to the service it provides listeners, the online playlist will significantly automate this process. KEXP has a significant asset in the University of Washington, however. The university provides all of the server space and bandwidth for the station's online endeavors. C&C staff also provide extensive back-end technical support, enabling the station itself to employ only two people to manage the Web site and online projects. The investment in the Internet has paid off. KEXP has grown from 100,000 streaming hours per month to 250,000 in the course of a year, with almost 30 percent of all pledges coming from online listeners.
Where the music matters All of the assets KEXP has at its disposal would be a waste, however, if they were in support of lowest-common-denominator music or juvenile radio pranks.
In keeping with its slogan, KEXP offers an eclectic mix of nearly everything worth listening to on the current musical landscape. The playlist seems to have its roots in college radio, with mainstays like Built to Spill and Sonic Youth popping up frequently. But, more often than not, DJ's sets take detours into artists like afropop monarch King Sunny Ade, jazz pianist Brad Mehldau, or underground hip-hop groups like Blackalicious.
"We don't rely on consultants," says Don Yates, KEXP's program director. "It's a matter of how the music sounds."
Although Yates and assistant program directors John Richards and Kevin Cole pick out about 170 "rotation" CDs, DJs are free to program their own shifts as long as they play tracks from five "rotation" CDs, one local track and one from an artist coming to town. DJs work especially hard at the keeping their sets flowing, making sure each track fits with the next. Most arrive early to prepare before the shift begins.
"I've never been told to play a track a single day in my life," says Richards, typical of the hardcore music fans who make up KEXP's staff. In addition to morning shifts at the station, producing the local music show, Audioasis, and acting as assistant program director, Richards runs Loveless, an independent label, hosts the local music show on commercial modern rock station KNDD, does A&R work for Universal Music Group and music consulting for Microsoft's XBOX.
But listeners know him best through the morning show. More than 5,000 "Morning Faithful" get Richards' playlist via e-mail every day, and many more appreciate the way he gets them through their mornings with copiously chosen music and none of the annoying banter common on the right end of the dial.
Listeners have rallied around Richards' choices. Not long after he began championing Welsh punk band McLusky, listeners began requesting the band's song "To Hell With Good Intentions" so much that Richards played it even when he admitted he wasn't planning to.
"It gives a DJ an identity to champion a band," he says. "We're championing a band because they're good—nobody's paying us money."
As a result, listeners view Richards the same way DJs were viewed before they began to be replaced by consultants and corporate bean counters—as a tastemaker, leading the way into new music for the benefit of all.
"It's been my goal to built a community of likeminded music listeners," Richards says. "It's not snobbery. I'm not saying you have to be certain kind of person who listens to the show."
Falling in love with the station
Richards, while arguably the most popular, is only one of the many on-air hosts Mara and Yates trust to put music and behind-the-mic professionalism together in a way that will attract an audience.
While each weekday includes the regular contributions of 10-year station veterans like afternoon host Amanda Wilde, who also coordinates educational projects for the station, specialists like Jon Kertzer are also given room to work.
Kertzer, host of The Best Ambiance, KEXP's African music show, is an expert ethnomusicologist, currently working as director of Smithsonian Global Sound, a new world music Web site.
"They use their instinct to put these shows together," Mara says. "What you hear is produced by the voice you're hearing."
Although it's an old approach, it stands out in a radio environment where bottom-line concerns have been allowed to trump everything else.
"We go in the opposite direction in approaching music radio," Mara adds. "If I convince myself that people are falling in love with the radio station, I've done my job."
Others Tagged With