Kimmie Rhodes
Love Me Like a Song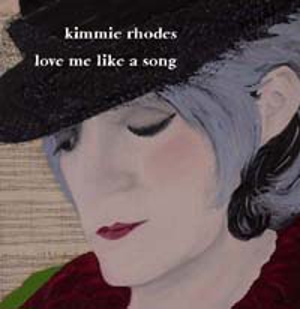 Kimmie Rhodes urges us on her new CD, Love Me Like A Song, to meet her somewhere between midnight and the sun. On her classic, and essential, West Texas Heaven in 1996, the overall sound of Rhodes' solo performances and duets with Willie Nelson, Waylon Jennings, and Townes Van Zandt seemed to be about youth and strength. On the new CD, with Jennings and Van Zandt gone, the sound of her sometimes honey-paced love songs seems to be more about gentle perseverance.
As always, in thematically tight songs ranging from the simple goofiness of "Louis' World" to country to Broadway to the edge of the blues, Rhodes' lyrics count. The words are simple, and with a voice that ranges from little-girl sweet to mature-woman weary, she follows through with clear imagery. In a world where midnight and sunlight are equally important—she manages to share genuine sentiment without getting gooey.
On the title song, Rhodes and Willie Nelson sing: "Put your arms around me, listen to my heart beat now. If you want to love me, baby I can show you how. Love me like a song, sweet as a melody. Learn all the words to me and sing along. Find the harmony, the rhythm and the rhyme to me, on and on, all night long. Love me like a song."
On the electric bluesy "Midnight Song," she urges a lover to meet her "down by the tree where the night bird sings," under a sea of stars where the little dog laughed and the dish ran away with the spoon. She wrestles with the angels and with the devils in her head, and needs a bedtime story. She needs all the king's horses and all the king's men to put her together again.
Rhodes also does duets with Emmylou Harris, Beth Nielsen Chapman, and Heartbreakers' keyboardist Benmont Tench on Love Me Like A Song. Nelson calls Rhodes an undiscovered superstar.
Superstardom may be a terrible thing to wish on anybody. But it's also disturbing to realize that Rhodes is now a grandmother. She celebrates that fact on "Louis' World," a short song about her son (and the album's producer) Gabe's new son. The theatrical piece's military drums quickly turn to a circus beat and a baby's cry as Rhodes explores the concepts of life having meaning and of flying away into the blue.
Others Tagged With