Radney Foster - Another Way to Go
Dualtone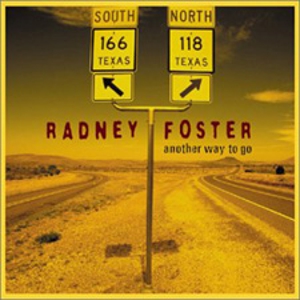 Hard to believe, but Radney Foster had a slew of top 10 hits in the pre-Garth era, when acts like Steve Earle and Lyle Lovett still had a chance to get on country radio. When country went pop, Foster seemed to follow suit—until the terrific live acoustic set Are You Ready for the Big Show in 2001.
Now with Another Way to Go, he's found the balance between the big, broad-stroke sound contemporary country and the more reflective, quieter aesthetic of the Texas singer/songwriter tradition. Which means he's ended up with an indie-label album full of songs that would sound right at home in Nashville.
Highlights include the spirited "Everyday Angel," which puts the heroes of 9/11 in context, reminding us that it's possible for any of us to be a hero in our own way, and the lovely "Scary Old World," which Foster wrote with country legend Harlan Howard and sings with Chely Wright. Then there's the heartbreaking "Disappointing You," a quiet rumination on mistakes made and chances squandered, sung over gentle acoustic guitar and fiddle.
But Foster still follows his own muse, refusing to be bound by any conventions, mainstream or alternative; he adds touches of Van Morrison-style blue-eyed soul on the rollicking "What It Is That You Do" and the slow-burning "Again." With an album like this and songs on both the latest Dixie Chicks and Keith Urban albums, Foster's found the best of both worlds.
Others Tagged With