Blue Note Reissues
Donald Byrd, Freddie Hubbard, Horace Silver & More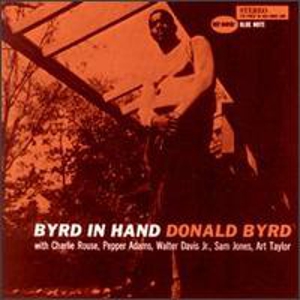 DONALD BYRD – BYRD IN HAND
LOU DONALDSON – THE NATURAL SOUL
FREDDIE HUBBARD – HUBCAP
CLIFFORD JORDAN/JOHN GILMORE – BLOWING IN FROM CHICAGO
JACKIE MCLEAN – JACKIE'S BAG
HORACE SILVER – FINGER POPPIN'

With the reissues in Blue Note's Rudy Van Gelder series, quality never seems to be the issue; only the depth or breadth of it.
The twice-yearly half-dozen titles re-released in the renowned sound engineer's name are remastered and repackaged discs bringing back out-of-print records, sessions that never left the vaults, import-only titles, or simply updated masterpieces. Each reissue adds new liner notes and candid studio photos shot by label co-founder Frances Wolff.
On occasion, the reissued sessions span the lifetime of the first incarnation of the Blue Note label: from Sidney Bechet's late '30s sides to '70s fusion. Other batches, like the current set of releases, offer less scope but make up for it with a depth of quality that reminds jazz fans why this label was the undisputed house of hard core hard bop.
The new reissues — Donald Byrd's "Byrd In Hand," Lou Donaldson's "The Natural Soul," Freddie Hubbard's "Hub Cap," Clifford Jordan's and John Gilmore's "Blowing In From Chicago," Jackie McLean's "Jackie's Bag," and Horace Silver's "Finger Poppin'" — span just five years, from 1957-62. But that half-decade was arguably the zenith of the hard bop movement, judging by this mostly marvelous set of dates.
The strongest session in this set is the aptly titled "Blowing In From Chicago," an immensely engaging, no-fooling-around hard bop encounter between tenor players Clifford Jordan and John Gilmore, which has been out of print far too long.
Recorded in one day in March, 1957, it was a time when jazz studios throughout New York and environs were the venues for several notable tenor blowing sessions, most famously Prestige's "Tenor Madness," which matched giants Sonny Rollins and John Coltrane in their only studio recording together. Blue Note had its share of tenor battles, too, including the memorable Johnny Griffin date -- "A Blowing Session," recorded just one month after the Jordan/Gilmore date – featuring the diminutive (in all but sound) Griffin, Coltrane, and Hank Mobley on tenors.
"Blowing In From Chicago" gives either of those famous dates a run for the money by virtue of the musicianship and the strength of the compositions (in this department it actually exceeds the others). The overwhelming depth of this era is reflected in the notion that Jordan and Gilmore -- two exciting, inventive tenors with long careers – were considered "second tier." On this date, there's nothing "second tier" about anything.
This was Jordan's first session as a leader, and one of Gilmore's few recorded dates before he joined the Sun Ra Arkestra, where he was a fixture for decades and subject to the whims of his mercurial bandleader, who rarely let his sidemen do side projects. Both tenors benefited on this session from what was easily the hardest swinging rhythm section of the time: pianist Horace Silver, bassist Curly Russell and drummer Art Blakey, the trio that formed the backbone of Blakey's famous "A Night At Birdland" live set with star-crossed trumpeter Clifford Brown.
With that trio propelling them, the tenors burst from the gate with "Status Quo," a John Neely (another Chicagoan) composition. Gilmore is the more aggressive and imaginative, and takes the first solo with Silver comping smooth, solid blocks beneath him, Russell plucking a thick, walking-bass line, and Blakey urging everyone to even greater heights with his trademark press rolls, cymbal crashes and bass-drum bombs. This is hard bop at its most infectious.
Charlie Parker's "Billie's Bounce" is taken at the same blistering pace later in the set, with the smoother, more lyric Jordan filing the initial solo this time. Gigi Gryce's standard, "Blue Lights," and Jordan's "Evil Eye" provide some minor-key, mid-tempo blues relief, allowing the tenors some breathing room and the opportunity to construct more contemplative lines before Silver's "Everywhere" ups the ante again.
The mood throughout is one of joyous abandon, both tenors exhibiting the wide-open swinging Chicago style, cousin to the New Orleans swing from whence it evolved. With the demanding Blakey, Silver and Russell setting the pace, Gilmore and Jordan prove up to the challenge at any tempo. The result is a date that typifies the best hard bop of the era, and rivals some of the more famous dates for sheer excitement, ensemble work and creative soloing.
The perception that hard bop dates are interchangeable doesn't stand up to the evidence when comparing the Jordan/Gilmore session with, for instance, Donald Byrd's "Byrd In Hand," recorded in May, 1959.
Eschewing the up-tempo element of hard bop, Byrd and his front line of baritone sax master Pepper Adams and underrated tenor Charlie Rouse opt for a subtler swing and a "lyricism with guts," as Ira Gitler wrote in the original liner notes. This is best exemplified by their gorgeous rendition of the disc-opening standard, "Witchcraft," which swings as much as it sings.
This front line also benefits from a strong – and familiar – rhythm section. Bassist Sam Jones and drummer Arthur Taylor had recently played in Thelonius Monk's quartet along with Rouse. Byrd and Adams – fellow Detroit natives who collaborated often, Adams' brawny tone a perfect foil for Byrd's lyricism – had augmented Monk's quartet for a Riverside date just four months earlier.
Familiarity aside, the expressive songs of pianist Walter Davis, Jr. ("Bronze Dance" and "Clarion Calls") and Byrd's own compositions (including the heavenly ballad "Here Am I," which for some unfathomable reason never became a standard) make this date a memorable one.
"Byrd In Hand" is also widely regarded as the session in which the warm-toned trumpeter came into his own. By virtue of his age and promising talent, Byrd was one of the poor bastards expected to fill the void left by the death of the ridiculously talented trumpeter Brown in 1956. Byrd finally emerged from that long shadow on "Byrd In Hand," showing his own unique talents as both a trumpeter and composer.
Four months earlier in the same studio, Horace Silver was debuting what would become the most successful and long-running of his famous quintets. Picking a greatest Silver record from among his many bands is no easy task, considering the high standards of virtually all of his 50s-60s release, but "Finger Poppin'" would surely finish near the top.
Trumpeter Blue Mitchell and tenor Junior Cook get plenty of chances to justify Silver's faith in them on their first date with their new leader. Both players attracted attention before joining Silver, but were largely unknown to the jazz public. But for Silver, the duo's background in R&B and Rock 'n' Roll bands – mandatory money making gigs for many jazzmen in this era -- was a big plus; in addition to their obvious chops, both could swing hard, a prerequisite in both circuits.
Silver's instincts were, as usual, on the mark. Cook and Mitchell both proved to be concise story-telling soloists and extremely strong ensemble players. Mitchell was probably the more exciting musician, and his solo on the funky jazz classic – a Silver specialty – "Juicy Lucy" is a model of hard bop economy and expressiveness.
Drummer Louis Hayes, the only member of this quintet to play previously with Silver, gets the credit for making "Swinging the Samba" such a swinging sample of Latin-flavored hard bop, another calling card of Silver's bands. Hayes propels the south-of-the-border swing without the aid of any extra percussive help, no simple task.
After "Sweet Stuff," a pretty trio ballad between Silver, Hayes and newcomer Gene Taylor on bass, the quintet stokes up a hard bop masterpiece, Silver's "Cookin' at the Continental." It's an unforgiving pace that challenges the front line, which cuts loose with some explosive solos and exhibits the cohesive ensemble playing that characterized this quintet through the five years of its existence. Silver's new quintet didn't take long to impress.
Another vital recording during this era was Jackie McLean's "Jackie's Bag" – actually, make that two vital recordings, for the disc combines the altoist's first date as a Blue Note leader (Jan. 18, 1959) with a second set a year-and-a-half later (Sept. 1, 1960 – McLean's fifth as the leader of a Blue Note session). The double date provides some fascinating contrasts between bands – the leader and bassist Paul Chambers are the only overlap – while simultaneously reflecting McLean's growth as a player and composer.
The first session was released as side one on the second date's original LP and features a rhythm section – Chambers, pianist Sonny Clark and Philly Jo Jones on drums – that had previously recorded under Clark's name on his most famous title, "Cool Struttin'" (McLean was in the alto chair for that gig). Clark's talents burn bright on the first half of "Jackie's Bag," his blazing solo runs and funky accompaniment greasing the mood considerably on "Blues Inn" and "Fidel" (Clark sits out on "Quadrangle").
But "Quadrangle" is the most important piece, considering McLean's imminent jump to avant-garde influenced hard bop. Admitting that he's been keenly affected by Ornette Coleman's groundbreaking work on alto, McLean incorporates some free jazz touches on this cut, a portent of what's to come.
That influence is even more obvious on the second date, McLean's first using a three-horn front line, including Blue Mitchell on trumpet and Tina Brooks on tenor. The songs were supplemented by three more tunes left off the original LP (for a total of six on the reissue), and feature three McLain originals and three by the underrated Brooks.
Among the McLain cuts is his brilliant "Appointment in Ghana," which is the altoist's first all-modal composition. Brooks' songs – "Isle of Java," "Street Singer" and "Medina" -- are also harmonically advanced titles that offer the players much more freedom in their solos, which they aren't shy about using, particularly the hard-swinging tenor.
Another taking full advantage is pianist Kenny Drew, whose style stands in contrast to Clark's. While few could match Clark's innate swing, Drew's more complex chording suits the more demanding material here. Their soloing styles were also markedly different (though equally effective in different scenarios); a point of comparison would be that Clark's single-note lines were like guitarist Grant Green's simple but effective solos, while Drew's solos were more reminiscent of Wes Montgomery's use of octaves on guitar.
In either case, McLean clearly absorbed much from his respective bands on these dates, for "Jackie's Bag" is, as Leonard Feather wrote in the original liner notes, a "giant step forward" for the alto player. Within two years McLean would release "Let Freedom Ring," which in no uncertain terms did just that for his style.
There were no great leaps forward on Freddie Hubbard's "Hub Cap," which, because it's in a similar vein with his first two dates as leader, often gets short shrift from reviewers. Had this been Hubbard's first date, it surely would have garnered much praise because it's a strong session throughout.
The comparison is even more unfair when remembering that Hubbard only wrote one original for each of his first two Blue Note sessions; on this April, 1961 recording the trumpeter composed the majority of songs (four). He also got important contributions from Randy Weston and this session's pianist, Cedar Walton, who each contributed one title.
Weston's "Cry Me Not" was arranged by Melba Liston, whose skills in this department were equal to the best male arrangers. "Cry Me Not" has a magisterial pace and elegance; Hubbard's solo soars, the trumpeter at home in the instrument's upper register like no one else on that horn. Tenor Jimmy Heath, not the most inventive soloist, does add his considerable swing. Walton's glistening arpeggios add another dimension to the song that make it the standout on "Hub Cap."
Both Hubbard and Walton would join Blakey's Jazz Messengers four months later, altering that ensemble's sound and make-up for good. Walton's composition here, "Plexus," hints at the pianist's emerging skill as a composer which Blakey would make full use of. This song incorporates several disparate elements, including a Latin feel courtesy mostly of Philly Joe Jones' drumming.
In short order, Hubbard would also leave behind the framework of hard bop for the autonomy of free jazz, but it's unfair to handicap "Hub Cap" with that history. Taken on its own, it's another strong hard bop date and an opportunity to hear one of the most technically proficient trumpeters show that he can swing and emote as well as anyone.
History hasn't been as kind to the 60s' third main movement (along with hard bop and free jazz), soul jazz. Hard bop with a strong soul component has thrived – think primarily of Jimmy Smith's records and Bobby Timmons' compositions, particularly the Jazz Messengers' "Moanin'" – but soul jazz like Lou Donaldson's "The Natural Soul" sound stale and dated, and has largely fallen from favor.
Unfortunately, "The Natural Soul" isn't even a very good example of the genre. The record suffers in comparison to Donaldson's previous outing – "Here 'Tis" – which was a much stronger example of soul jazz. "The Natural Soul" is primarily weighed down by three pedestrian interpretations of standards, which, to be kind, don't do well with a soul jazz treatment to begin with.
Donaldson's alto blowing also seems uninspired, wasting the efforts of a strong rhythm section including guitarist Grant Green, John Patton on organ and drummer Ben Dixon. Trumpeter Tommy Turrentine doesn't fare much better, though his solos seem more fluid than Donaldson's.
The up-tempo numbers – "Funky Mama," "Nice 'N' Greasy" and "Sow Belly Blues" – swing well enough and are clearly the highlights of the disc. But, in the company of these other reissues, "The Natural Soul" doesn't hold it's own. It would have been a tall order to begin with, given the excellence of the soulful company it was keeping.
Others Tagged With