The Posies: Jon Auer/Ken Stringfellow - Private Sides
Arena Rock Recording Co.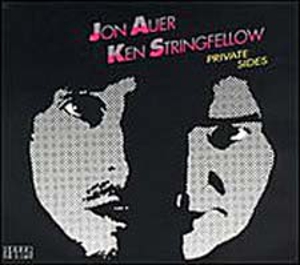 Once fans got over the initial shock of The Beatles' breakup, they were no doubt curious to see what would come from the individuals responsible for co-writing some of the greatest songs in rock or pop history. Though Lennon and McCartney each produced a fair number of memorable tunes on their own, it became clear there was a certain magic in their collaboration—whether the song craft itself, the arrangements, or just the way they played together—that couldn't be matched by either songwriter's post-Beatles work.
Fans of 1990s power-popsters The Posies can attest to this magic of shared songwriting. Founding members Jon Auer and Ken Stringfellow co-wrote pop-rock songs with simple chord progressions, catchy melodies and tight vocal harmonies, all the while rocking their hearts out. In the late '90s, though, the band took a back seat to other projects.
Since the "split-up" of the band (they still occasionally play together, but there's no new album in sight), Auer and Stringfellow have each released decent, enjoyable solo albums. Like Lennon and McCartney's, though, their solo efforts lack the energy and quality of their collaborative work.
But if there's anything proved by the Private Sides split EP, it's that the Auer/Stringfellow magic is present even when they just appear on the same record. Still not their finest work, Private Sides is nevertheless a fun collection of material that gives fans a side-by-side comparison of the pair's solo work.
The EP kicks off with Auer's "When The Lights Go Up," a country-ish ballad featuring soaring violins and melancholy vocals. Though tuneful and mellow at first, the song gets boring fast and drags on a bit too long. The next track, "Beautiful," has all the earmarks of Frosting On The Beater-era Posies material: crunchy, hooky and sweet. The only downside is that the song begs for a drum part to come crashing in, but a simple hi-hat click track is all we get.
All is forgiven, though, with "All U People," a quirky, lo-fi rocker that sounds like it belongs in an early '70s monster flick. Distorted drums and even more distorted guitars provide a stomping beat under Auer's spooky vocal delivery of lines like, "You know that I gave you all my best / Now it's my time to try on all the rest."
Stringfellow's "side" begins with "Ask Me No Questions," a 1969 composition by Bridget St. John, whom he refers to as a "UK-based acoustic genius" on his Web site. Unfortunately, his attempts to make this simple, beautiful song even more charming—with the addition of bells, accordion, and shimmering guitar parts—only make it sickeningly sappy. "Questions" is followed by "Don't Break the Silence," an original composition from Stringfellow's days with the short-lived band Saltine a few years back. He sings beautiful lines such as, "Just feast your eyes / On her gold sunrise," alongside clever ones like "She's not for sale / She's eternally not yours," over an interesting arrangement of electric guitar and banjo.
The EP closes with "Prequel," a song Stringfellow recorded during a 1997 Posies hiatus that (surprise!) sounds like a late '90s Posies song. Unlike Auer's "Beautiful," the unaccompanied electric guitar and vocals of "Prequel" wouldn't necessarily have benefited from the full-band treatment. Stringfellow's slightly softer tendencies prove effective on this track.
Though not a great place to start for new listeners of Stringfellow, Auer or The Posies (try the aforementioned Frosting On The Beater), Private Sides is a great teaser for old fans itching for new material from either one or both of these gifted artists. Let's just hope there's a little more magic to come.
Others Tagged With