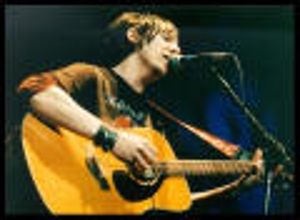 34-year-old singer-songwriter Elliott Smith was found dead by his girlfriend in their Los Angeles apartment Tuesday. Smith had apparently committed suicide by stabbing himself in the chest, though police have yet to rule out foul play.
In a June 2003 interview, the artist told Under The Radar magazine he'd struggled with alcoholism in the past. In an effort to quit drinking, Smith also said he'd received treatment to clear his bloodstream of toxins.
Smith's lyrically dark songs about isolation and addiction were often compared to the music of Nick Drake, Alex Chilton and Smith's favorite group, The Beatles.
In 1998, his song "Miss Misery" appeared in the film Goodwill Hunting and was nominated for an Academy Award.
Smith was born Steven Paul Smith in Nebraska. His mother was a singer and his father a psychiatrist. He spent most of his childhood with his mother in the Dallas suburbs before moving to Portland, Oregon in high school, where he lived with his father.
As a child, Smith studied piano and guitar and, at age 13, began composing songs. He started calling himself "Elliott" during middle school because "Steve" sounded too "jockish," he later told a reporter.
After graduating from Hampshire College in Amherst, Massachusetts, Smith moved home and joined Portland indie band, Heatmiser. On the side, he recorded several solo albums that won him a devoted underground following—Roman Candle (1994), Elliott Smith (1995) and Either/Or (1997), all released by independent labels.
Smith subsequently signed with DreamWorks and recorded two albums. XO (1998) and Figure 8 (2000) furthered his critical success, taking him to the middle of Billboard's Top 200 albums chart.
Smith released two singles earlier this year on Seattle-based indie-label Suicide Squeeze. At the time of his death, he was working on material for his sixth solo album.
-Contributing: Associated Press, NPR and antimusic.com
Got news tips for Paste? Email news@pastemagazine.com.
Others Tagged With