20 Signs of Life From 2003
1. Rufus Wainwright - Want One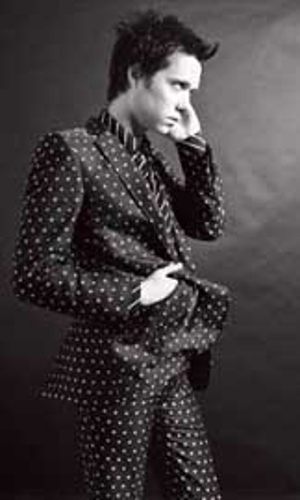 Consider for a moment the dizzying flood of pop albums that bombarded store shelves this past year, cast overboard from a bloated industry foundering by degrees in its own elaborate waste. Record execs looking for different folks who sound just like The Strokes, Chris Lord-Alge forever polishing the production on some label's next titanic investment. Another year, another parade of musical cash cows regurgitating the same formulaic crud. We've heard it all before. And then, with Fall approaching, Rufus Wainwright arrives like a knight in shining armor (quite literally, if you check the album cover of his latest project, Want One), armed with 14 new songs, and ready to save the world from boring, predictable pop-by-numbers.
While so many of his peers seem content writing music with narrative arcs bearing all the emotional complexity of an episode of Saved By The Bell, Wainwright offers, not a sitcom, but a sort of pop musical based on the sordid drama of his own existence. Building on the tortured song craft of his 2001 release, Poses, the arrangements on Want One prove delightfully over-the-top, brimming with soaring operatic peaks and emotional valleys shadowed in almost certain death. "14th Street," a triumphant fanfare-well to former loves (and the jaws of a former life), erupts with the pleading question, "Why'd you have to break all my heart / Couldn't you have saved just a little bit?" This sentiment provides a thematic anchor for the album, a 21st-century take on C.S. Lewis' notion that "There comes a point where you have to be willing to tear down the forest in order to irrigate the resulting desert."
Still other tunes spring from the unsettling process of maturation, molting, shedding the frantic solipsism of youth, figuring out who you are and what you want from life. Amidst the furious, relentless drum-pounding stride of "Movies of Myself," Wainwright pleads, "Stop me falling down, stop me making movies of myself…Start making my heart say something that it doesn't want to say." The most painful and exquisite sentiment expressed on this album, something Wainwright apparently needs to say (whether his heart wants to or not) is contained in the album's closing song, "Dinner at Eight," a piano ballad with lilting orchestral touches, which he penned following a calamitous dinner date with father Loudon Wainwright III. "I've always been the one told to flee / When in fact you were the one / Long ago, actually in the drifting white snow/ Who left me."
Want Two, the second installment of songs recorded during the Want sessions, is allegedly on its way in early 2004. And I find it comforting knowing in advance that next year won't be a total letdown.
Others Tagged With