Barenaked Ladies
Can't Be Everything to Everyone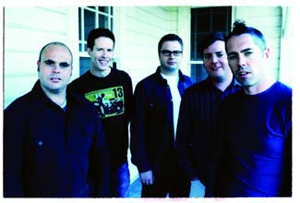 Each successive release from Canadian pop-rock heroes, Barenaked Ladies, comes with the suggestion they're not as funny as they used to be. Chatting with singer-songwriter Steven Page after the St. Louis show of the band's "Peepshow" tour, I wondered if it might be experiencing 'Woody Allen Syndrome.'
"I love 'Stardust Memories,'" Page laughs, "and we get that—where people tell you they like your early, funnier records. But also, the subtext whereas he's trying to grow as an artist, he's wondering if his best work is behind him."
On Barenaked Ladies' latest disc, Everything to Everyone, the tender, thoughtful "War on Drugs" and the bluegrass-infused "For You" rub up against catchy pop tunes like "Testing 1,2,3" and "Second Best." And, there are the usual novelties, too—the rap-pop of "Another Postcard" and the techno-disco of "Shopping.
"Some people dislike us because we're not as funny as we were," says Page, "and other people dislike us because we're still too funny. We're like, 'we've got to stop trying to please people. We have a bunch of fans who like us for everything we do, and we love doing everything we do, so why don't we just do that?'"
Which would make the title Everything to Everyone ironic, right? "Well, yeah," says Page. "But it's also making fun of ourselves, which keeps it from being mean."
Part of the problem for BNL is that once you get labeled "novelty song band," folks tend to overlook your strengths. In BNL, the five band members bring sonic versatility, musicianship and harmony to their memorable pop-rock songs, some of which are even sad and slow. These strengths have been largely responsible for the band's success, creative and commercial.
"You embrace success and take it for what it is, or you get bitter and fight it," says Page. "I think the difference between selling a million records and selling four million records is when you get to the people that don't [normally] buy lots of records. I think the best thing we can say to them is 'welcome to the family, enjoy the show,' and hope that they stick around, but they're just an added bonus."
BNL had exactly this kind of surprise breakthrough with their song "One Week." "We never knew 'One Week' was a single," admits Page. "We wrote it as a silly song. We never thought, 'this is a number one hit,' and nobody around us heard it and thought that it was, either. They were like 'this is the single?'
"It didn't sound like anything else on the radio, but once it's a hit they're like, we want another one like that. 'Pinch Me' had the rapping, but it was a down-tempo thing. 'Another Postcard' is more in the vein, and we get 'but this is a silly song.' As if 'One Week' were this serious reflection on the implications of the end of the Cold War."
BNL are no longer willing to apologize for having a more reflective, artistic side as well as a comical, entertaining one.
"There are times in your life where you have to make a line in the sand and say 'this is where I stand,' says Page. "Whether it's about your personal politics or the kinds of things you're going to do in your career. We're still learning, still trying to figure it out, but I think we've figured out that our biggest downfall has been the desire to do anything to please people. We do a lot of different kinds of music, because that's what keeps us interested and excited about making music."
Others Tagged With