Blues Poems
Edited by Kevin Young (Pocket Poets)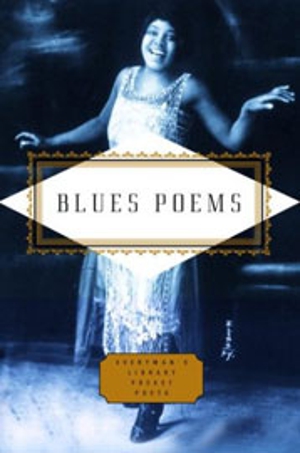 The blues have ingrained themselves so deeply in our culture that it's uncertain what music, literature and life would be like in America without them. No blues, no Elvis Presley, no Chuck Berry, no Beatles, no Stones… no rock 'n' roll as we know it. Erase most of the counterculture's music, maybe the sexual revolution to boot. Miles Davis never fuses jazz and rock. No funk, no punk, no grunge, no White Stripes parading a sea of red- & white-clad youths across the stage at the MTV Awards. None of hip-hop's vivid realism. No Public Enemy, no Outkast—the dominoes keep tumblin.'
Without the tragicomic transcendence, biting wit, playful recklessness and not-so-thinly-veiled sexuality of the blues, we'd be missing Langston Hughes, at least as we know him. Playwright August Wilson never pens Ma Rainey's Black Bottom. No blues haikus from Kerouac and the Beats. Barbecue is never paired with blues, and the universe fails to achieve balance. Ralph Macchio never stars in Crossroads, and I never meet my friend Claire Campbell while jamming out a Jimmy Reed tune at a beer-soaked open mic in Charleston, S.C. The blues' immense cultural presence in all our lives is undeniable.
Blues Poems—another fine anthology compiled by poet Kevin Young, whose Giant Steps is likely the definitive collection of contemporary African American writers—offers an introduction to what he calls "the blues as poetry, and the poetry of the blues." It gets at the root of this cultural presence, featuring work from the Harlem Renaissance, African American Realism and Modernism, the Beats, the Black Arts Movement and the entire canon of 20th-century blues music.
But one might wonder if it's possible for the blues—in this format—to retain the same depth and capacity for inspiration, the same mojo that led to its profound cultural impact. Can blues poems stand alone without music to anchor them? And—even more difficult to pull off— can lyrics to recorded blues music stand alone as poetry?
The anthology's first poem, Hughes' "The Weary Blues" answers the first question. With its seedy, back-alley ambience and its shuffling, shifting rhythms, "Weary Blues" is moving whether read in silence or spoken aloud. Hughes manipulates the blues' repetition, altering the phrases slightly each time, intoxicating the reader, creating silent music with his blessed vernacular. The second question, though, is more debatable. In many cases, it's true—lyrics fall flat on the printed page, unable to retain the weight given them by the feeling and melody of the music.
But anyone who needs proof that lyrics—in this case, blues lyrics—can work as poetry should read Robert Johnson's tortured "Hellhound on My Trail" and achingly beautiful "Love In Vain," both included in the Blues Poems anthology. The spooky "Hellhound," addresses the Johnson legend with a disconcerting directness. In his lyrics he seems exhausted, as if trying to escape some terrible, inevitable fate, dealt by the devil at a midnight crossroads next to some mist-soaked Mississippi cotton field. Johnson's repetition adds tension, and his use of the word "hail" seems a play on words with a double meaning (perhaps "hell" with a southern accent)—"I've got to keep to keep moving / I've got to keep moving / blues falling down like hail … And the days keep on 'minding me / there's a hellhound on my trail." Johnson's also a master when it comes to a subtle turn of phrase. His heartbroken ballad "Love in Vain—even with Johnson's lack of formal education—contains one of the most delicate, poetic lyrics in rock 'n' roll history—"The train / it left the station / with two lights on behind / When the train / it left the station / two lights on behind / Well / The blue light was my blues / And the red light was my mind / All my love's in vain."
Johnson's simple, yet affectively foreboding lyrics are full of clever literary devices, implied stories and deeper meanings, but there's enough ambiguity to keep you thinking. And without the poetry of the folks included in this book—Hughes, Gwendolyn Brooks, Bessie Smith, Allen Ginsberg, Son House and Amiri Baraka—the frightening train of what-ifs and never-would-haves keeps chooglin' down the line.
Others Tagged With