Corey Harris
Big Blue Planet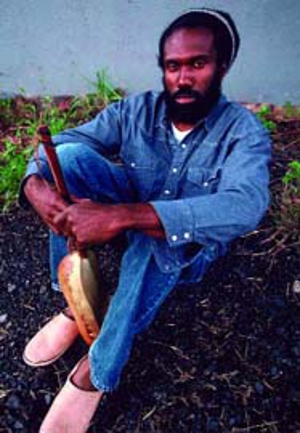 Corey Harris has always been a musicologist, and his subject of choice has always been the blues. His college experience took him to Cameroon where he learned that the area's Juju music was a seminal form of American blues, and further study back home gave him the ability to pick a player's geographical base simply from stylistic anomalies.
On his new album, Mississippi to Mali, the Delta blues player once again explores the connections between African musical dialects and American blues traditions. He originally intended to make a duets album with older blues players but when Martin Scorsese tapped him to host the Feels Like Going Home episode of his recent PBS series, The Blues, Harris retooled his album concept to reflect his African journey.
"I had toyed with the idea of recording there before, but it was more like just a wish," says Harris. "I hadn't really pursued it. A venue where there's not all that equipment readily available appealed to me in a way. And also I was able to get performances [from] people where they felt most comfortable and not in a studio, which can be a different space if you're not used to it."
Utilizing the field recording method, Harris worked with African masters Ali Farka Toure, Ali Magassa and Souleyman Kane in Mali, then lived with the tracks for nearly a year before taking the same approach to recording with Sam Carr, Bobby Rush and Sharde Thomas and the Rising Star Fife and Drum Band in Mississippi. The stripped down, spontaneous nature of the recordings inspired Harris throughout the process.
"One of the nice things was we were able to put together what we did and have it be not overly rehearsed," says Harris. "It was more getting the atmosphere and conversing and getting comfortable."
Others Tagged With