From the Cradle
The Arrival of Ellis Hooks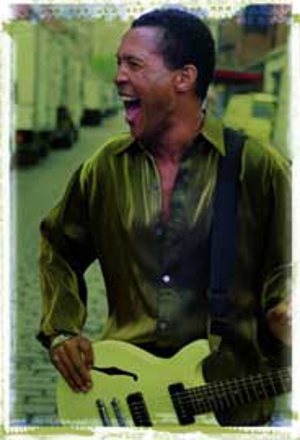 Even if the music of Ellis Hooks weren't so utterly compelling and unusual, his story might warrant novelistic treatment by Walter Mosley or James Baldwin—or at least might personify some folk tale that traveled up north from the mysterious South via the underground railroad. At a well-traveled 29, the soul singer/songwriter embodies the bluesman's legacy.
As evidenced by his three recordings, all produced by the venerable Jon Tiven (Frank Black, Nick Lowe, B.B. King), Undeniable on Europe's Zane label in 2001; Up Your Mind from Evidence Music in 2003; and Uncomplicated from Artemis in early 2004—Hooks has one of the most original voices to come out of R&B since the heyday of the great Memphis soul scene. And though deeply influenced by Wilson Pickett, Sam Cooke and Otis Redding, Hooks sings with his own unique phrasing and delivery; he writes songs that resonate deeply in the human heart's broken depths. And they come from an experience beyond his years. "I've been all over, from my upbringing in Alabama to Europe on the streets to New York City and everywhere," says Hooks. "And one thing I know is that the music I make seems to get to people wherever I get to sing; it's about the things we all have in common."
Hooks is referring to a life that's been spent, until the last couple of years, wandering the globe playing his music for anyone who would listen. Born in a small Alabama town between Mobile and Montgomery as the third youngest of 15 children, Hooks worked on his family's farm from the time he could walk. He was raised in the Southern Baptist church and by the age of nine was a soloist in the choir. A year later, at the age of 10, his father passed away. Hooks' early music education came from hearing rock, country, R&B and gospel music blasted out by nearby radio stations into the early hours of the morning. He just couldn't get the music out of his head. He decided he had to make music for himself, so he left home at 15. Hooks first wandered the country, doing whatever odd jobs he could and playing street corners. Eventually, he ended up in Europe, busking on the streets of Paris and Amsterdam before coming back to the States and settling in New York.
He was "discovered" by Diana Ross while singing in Central Park. The soul diva set up a session for him, but Hooks never showed up. "I wasn't ready," he states matter-of-factly, weary of the topic. "I didn't have my songs together at the time. That's all old stuff."
Later he met Tiven, who had just finished producing Wilson Pickett's comeback record, and a partnership was born.
"I was still living in New York at the time," says Tiven from his home in Nashville. "I had given a young woman my card and she was coming over to play me some songs. Ellis was with her as a chaperone. Her music, which was pretty much the pop stuff that gets played on the radio, had nothing in it I could work with. Then I asked Ellis what he did. He was mad because I turned down his friend and he answered abruptly that he sang. I told him to, and he picked up a guitar and blew my mind."
"I was angry," admits Hooks, laughing. "I thought at the time, he just wanted to get with this girl, and when he turned her down, he asked me, nasty-like, 'What do YOU do?' I told him, 'I sing,' and when he told me to do it, I was thinking, 'OK, I'll show you about singing.' It was like a challenge, and I took it."
Tiven began working with Hooks immediately. The pair, along with Tiven's bass-playing, songwriting wife, Sally, began composing and rehearsing together, working on a new sound that was all Ellis.
"The more I heard Ellis' stories from his life," Tiven recalls, "the more I wanted to get the feel of them in his music. He already had a voice that conveyed everything he's been through; we wanted to create material that reflected what was in his singing. We began to write a lot of material, only recording when it felt right, and getting the best songs down. We made Undeniable on my dime and shopped it. I was working on a deal with E Music and was supposed to give them six albums by known artists and one by an unknown. A large portion of Up Your Mind—that eventually ended up on Evidence [Records]—came from those sessions. We still have a ton of music in the can, and the vast majority of it is great. We craft albums from the songs we cut; we don't just put them out there to have something out. We clicked really quickly; I make it easy for him to do what he does."
"Working with Jon," says Hooks, "the music I was making really came together. He doesn't force me to do anything I don't want to, and he understands what I am trying to do. I love Sam Cooke and Wilson Pickett, and these guys were my influences. I don't sing like them, I make my own sound. I am trying to make music that gets people in the heart, hits them in the same place that great music hits me. That's why I sing soul; my music also has gospel, blues, country and rock'n'roll in it—it all comes from black soul music anyway … anything to make the music come out honest, like the handclapping in church …."
Since Hooks teamed up with Tiven he's played sold-out clubs, received rave reviews and garnered laudatory praise from audiences ranging from the Montreux Jazz Festival (as Bonnie Raitt's guest), Italy's Poretta Festival (with Carla Thomas's Big Band), and the Newport and JVC jazz festivals. At this point he's more than an up-and-comer—he's arrived. "It's been easier in Europe," Hooks explains. "There they treat you like family. They're immediately ready to accept you. Here it's been harder. You have to fight for your audience, but that's what we're doing and it's working."
Hooks definitely knows his muse. His three recordings mix tough, raw Southern soul with elements of other musical genres, but he never strays from the notion of groove, the feeling of direct emotion, the sound of longing. For example, Up Your Mind's "Man of the Blues," written by Sandy Carroll, Tiven and Hooks, encapsulates Ellis's autobiography, and in it you hear every lonely night on the road. "I brought that song to Jon and told him I wanted to record it. It was already a tune, but I added my own thing to it. Jon helped … and we made it mine. That song is my story." A blues-drenched funk tune, "Riding With Fire" spells out the dangers of a transient existence. "Eight Months Ago Today" follows the tradition of great Memphis blues, with its slow, sensual pace and Tiven's ringing guitars. Every line drips with heartache. But it's the deep soul of "Controlling Picasso" that contextualizes Hooks' trademark soul sound with that of his forbears and points toward an R&B for the future. With Anton Fig on the trap kit and Tiven's languid acoustic and electric guitar parts providing the sonic canvas, Hooks spins the tale of Picasso and his mistress. It becomes a metaphor for the creative freedom an artist must be allowed in the world.
"I'm really proud of that song," Hooks says. "We got that one right … the drums play kind of a hip-hop line, and the melody is all blues and soul, and the guitar parts just send it over the top. But man, the lyrics are true—he was always caught between people who wanted things from him, and his own needs for things, and still he was able to rise above it and paint. The artist was free."
And freedom—along with faith, love and mercy—has arguably been a recurrent theme in Hooks' songs since he started writing, reflecting a deep-held faith that comes from his upbringing in the church.
"Sam Cooke was my number-one idol. He was in the church and sang there for a long time. He made himself singing in the church and when he left, the church seemed ready to forsake him for 'backsliding.' But he brought his faith with him. It's in every song he sang. I try to do that. I said many times when I was alone on the road and in Europe, "God, my life is in your hands. I was taken care of because no matter what happened, music never left me. Spirituality is part of my singing; it can't be gotten out, because it's part of me and I think it's what sets me a little different in the music of today. It used to be part of all the music you heard on the radio—from country to rock'n'roll and R&B. Now, in hip-hop and a lot of other popular music, that spirit is missing. I can't feel it."
With Uncomplicated, Hooks takes a giant leap forward, both a singer and songwriter. Songs like "It's Gonna Take Some Time" and "40 Days & 40 Nights" are drenched in deep-blue soul. They cry out for transcendence of earthly and spiritual circumstances. The protagonist has been to the edge of the abyss, looked over and returned to tell about it. Hooks' blend comprises elements of roots rock and funk this time out. He soars above the raw, dirty grooves—laid down by the band Tiven carefully assembled—but first he lifts the whole thing up out of the cellar of human emotions with the power of his voice. "Never Give Up On Your Love," "Hand of God," and Slide the Gun" are songs Jagger and Richards might salivate over. The minor-key blues strut of "M'baby," is one of the more brazenly sensual love songs to come down the genre's pipe in a decade. And the late Eddie Hinton, a fellow Alabamian, lived for a Muscle Shoals soul tune like "She Locked the Door." Hooks belts the song—of a man still chained to a past love while yearning for the one right in front of him—as if it were the last love song on earth. The backing gospel chorus' call-and-response gives the profane a sacred touch. "Can't Do This No More" might very well be the best song Rod Stewart never sang (likely a perfect fit for the Faces), while the funky "Ready This Time" would inspire envy even in the likes of James Brown.
Hooks and Tiven both view Uncomplicated as the fullest realization—thus far—of Hooks' vocal power. "Ellis has so many stories from his life," Tiven says, "you could never hear him tell all of them, but they do get told in part in his songs. … That's what makes those songs so powerful. No one has made an album as great as Uncomplicated in 20 or 30 years. It has everything in it, and Ellis, with his raw energy, is not specific to pop music fashion. His songs and his sophisticated [yet] unpretentious way of delivering them allow him to connect with audiences and other artists. He's one of the best ever."
Hooks, too, feels optimistic about his career. "This album is the best one I've done. I think it's really getting started. Now that it is, I don't just want to keep going, but to keep getting better, to reach as many people as I can playing, because I am not going to quit playing anyway. … The records are great—I love making them—but the records are what get you in front of an audience, and that's where we all get together and I do my best work.
"For me it's been a long road, but it feels like it's just starting. … People have stood by me from Japan to America. I'm lucky, because usually, if you aren't singing for the radio today, or on the radio, people aren't feeling you. I think people are feeling me out there."
Others Tagged With