Howie Day
Collides with Success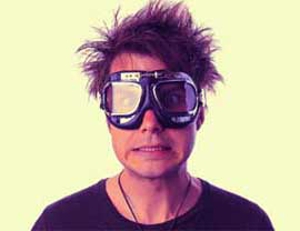 "Bang her?" asks singer-songwriter Howie Day, accentuating his native Maine bark, "I just met her!" It's a joke he's heard thousands of times. Growing up in Bangor, he says, "There wasn't much to do. We threw a lot of rocks off bridges."
Given the options, music became something of an escape. On this cold and wet late fall afternoon, his music has brought him to the campus of Washington University in St. Louis—even the eroding gargoyle in the courtyard wishes it had an umbrella. Day's sitting in the back of his bus near the loading dock of the student union. This is his latest stop on the national tour promoting his first major-label release, Stop All the World Now, on Epic Records.
Day, who sidestepped academia for a run at making music full-time, enjoys the irony that he would have earned his degree by now had he gone to school. As it is, he's been on countless college campuses in the last four years.
"Somewhere in the middle of high school," Day says, "I was like 16 or so—a sophomore maybe—I kind of made the executive decision to pursue the music career. [I'd been playing] bars up at University of Maine, which is like 10 minutes away, and in Bar Harbor, and I played at ski resorts. I played a mixture of contemporary stuff, the modern rock Top 10. Most of what I did, though, was things like Van Morrison's 'Brown Eyed Girl,' which every happy hour guy plays. It works so well in a bar."
Reaching those impressionable adolescent years in the era of grunge and '90s rock, the music his peers loved likewise impacted Day, but "the other half was the music my parents got me listening to—The Beatles, Elton John, Van Morrison, James Taylor, Simon & Garfunkel. I found myself really liking it."
Original songs began making their way into his sets and that's when the situation really opened up. "I hooked up with my manager," Day says, "and he started booking me for dates further away from home, in Vermont and in Boston, that kind of thing.
"I went down and played NACA [National Association for Campus Activities]. We ended up just killing that thing, so I ended up booking about 150 college gigs for the year after I graduated. So that gave me the choice: Did I want to go to college or go play all these shows? I played the shows."
By 2000, Day had finished his independent debut, Australia, recorded in two- and three-song bursts throughout a year with producer Mike Denneen (Aimee Mann). It sold over 30,000 copies and won Best Debut Album at the 2001 Boston Music Awards. The Boston Globe celebrated Day as "gorgeously seasoned, far beyond his years … a brave, beautiful singing voice." Soon after, Epic signed him and re-released Australia; dates opening for Sting, Tori Amos and Sheryl Crow followed.
Fans have responded to Day's songs of disillusioned longing for love—songs like "She Says," "Secret," "Ghost" and "Morning After." He warns they're not all factual. "Usually a song starts out somewhat about me, and sometimes it totally is, but most of the time it takes more of a fictional route. Most of that record was about one girlfriend, we'd been together most of high school. It's mostly about me leaving home to do all these shows, and dealing with that. It was 19-year-old love and loss, but it still counts."
To keep things interesting, playing as many as 300 shows a year, Day built a reputation for working loops and other technology into his solo set. "It was something that most people haven't seen before," he says.
"I'm really adamant about giving props to Joseph Arthur, because I really stole it from him. He does something live that's just unbelievable. I opened for him at this little coffeehouse for like a hundred people in Philadelphia. You record like 15 seconds, a loop of banging on the guitar to create a percussive thing, then add a melody line or background vocal thing, and it synchs and you play along to it. It's totally ethereal; you just lose yourself in it. I was like, 'Wow, I want to do that.' In the beginning, I started adding that stuff because I had become bored with being so predictable. I had been doing the solo show for over three years. [This new approach] has become part of who I am as a live musician. Solo, I take it further, because I can be more spontaneous with it."
That same experimental spirit accompanies Day on Stop All the World Now, recorded with producer Youth (Paul McCartney, Crowded House). "I had a lot to prove with the new record, because it had been so long. So I went all the way into the studio side of things. Youth had produced one of my favorite records ever, Urban Hymns by The Verve. He was concerned with setting a vibe, a mood. Which I'm a sucker for, because I love dark, moody music. So the record moved in that direction. Not all the songs, but as a whole it has this tinge of dreamy, ethereal darkness to it.
"I think I needed to make this record this way. I had to go the opposite of Australia. I had this totally clean, simple rock record, and I just wanted to make one that's weird. Maybe the next record will land somewhere in between the two."
Having a single receiving significant airplay is something new for Day, who admits checking out the chart position of "Perfect Time of Day." "It's done really well in video play," he says with a disbelieving tone. "It's like #14 on VH1's countdown. I'm watching it going, 'Wow, I beat Britney Spears this week,' which is pretty weird. That's odd, does that mean I can ask her out now?" Then, having second thoughts, he says "That might ruin some of my credibility, if I started dating Britney Spears. It might not be worth it [laughs], because the main reason to do it would just be to be that guy."
Day's reticent to respond to a comparison to U2, which elicits only a nod and a smile. But, the party line dissolves at the mention of another obvious influence. "I saw Steve Lillywhite recently, who I'd met a few years ago. He'd produced all that Dave Matthews stuff [and U2's early ones, lest we forget]. So, I said, 'Hey, I wrote my "Crash,"' and he's like 'Oh, really?' in that funny British accent. I'm like, 'Yeah, it's called "Collide."'"
Asked which of his new songs seem destined to endure, Day admits, "Singles come and go. I'd say 'Collide' will last. I think 'She Says' will hang around, I've done it on both albums. Maybe 'Numbness for Sound' will end up sticking around; it's certainly one of my favorites on the record. I don't think it's a fan favorite, but it's one of mine."
Later that night at the Gargoyle, a retrofitted basement storage space in the Washington University student union, Day breaks into "Numbness," proving his assessment correct, as less ardent fans become restless. But—fan response be damned—it was a significantly compelling moment in his set, which often felt flat. Day sounds the strongest when he steps away from generic structures, connects with the technology, says what's on his heart and finds that personal dynamic. Then his music connects.
But four years and two discs in, Howie Day has learned that the real satisfaction comes not just from playing what the crowd responds to immediately, but from making music that moves him.