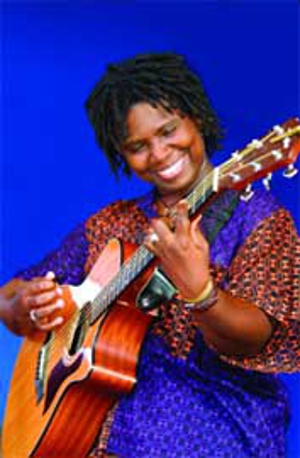 Ruthie Foster and her musical partner, Cyd Cassone, sip rum and Cokes near the window—one of the only places in the country bar lit by more than the red neon Budweiser sign. The bartender is well into her 60s; her black cowboy hat studded with rhinestones and black shirt adorned with Western trim. The gold record on the wall was a gift from Ronnie Milsap—his greatest hits on LP and cassette—and publicity shots of every semi-famous '80s country artist cover the wall. Foster and Cassone are in Nashville for the Americana Music Association conference, but their music little resembles the country standards on the bar's Wurlitzer Juke Box. Later tonight, the duo will transform the 12th and Porter nightclub into a makeshift sanctuary.
Foster grew up in Gause, Texas, pop. 500. Before adolescence she learned how to play guitar, and she was the first black singer to perform in many of the Brazos Valley's white churches.
"I was so tiny, playing guitar and singing about Jesus," she said. "I remember walking into … church and getting these looks, but I was this little novelty—this black girl who played guitar, played piano, and did cool gospel songs."
At 13 she learned the power music could have, when her grandmother took her to a Holiness Church. "I was standing there playing my song, and people were falling out—it scared me to death. But even as a child, I knew the Spirit was moving me. … You get more intense with your voice and play harder and sometimes you just cry. And that's when sisters start falling out and speaking in tongues. My grandmother would just say, 'It's all right baby. … They're full of the Spirit now.'"
While Foster considers her music now to be more spiritual than religious, she still has that same desire to move people in the spirit. At last year's Austin City Limits Festival, Foster's performance became a tent revival.
"People from the audience … literally came forward to the front of the stage and got on their knees crying," says Cassone. "And we weren't doing anything religious. We do a song from the Georgia Sea Islands called 'Death Came a' Knockin',' and there was a woman whose mother had just passed. She was having a hard time with it, and that song was a release for her. … She ended up in front of the stage on her knees crying with her friends around her. You know you're doing what you're supposed to be doing when it touches people."
Though raised on gospel music, Foster has always loved those big jazz voices from the mid 20th century, like Bessie Smith, Big Maybelle and Ruth Brown. More recently, she's become equally passionate about blues guitarists like Lightin' Hopkins and John Lee Hooker. Onstage and on her latest album, Runaway Soul, these influences come through mightily; gospel and blues never sound more perfectly matched than in the opening lines from the title track: "I believe my soul's found a happy home / But it's left me here to suffer on my own."
"That song came about when I was in a dark place. … I was in a real dark place and wasn't sure that I was gonna make it out. People listen to the happy, happy, joy, joy rhythm, but the words actually contradict what the music's doing. To each and everybody's life there's a dark side and there's a joy side." In 1993, having been away from Texas for a few years, she returned to move onto her grandmother's acreage between Bryan and College Station. "She came from a large family of sharecroppers," she says of her grandmother. "When I was about to move into her house, someone asked me, 'How you gonna live in Big Momma's house? You know it's Big Momma's house.' I could only come up with one word: 'Respectfully.'"
Despite performing most of her life, Foster struggled at first to find her own sound. When she started playing in the Dallas area, both solo and with a band, she simply tried to please the crowd. "I could just sit there and play Tracy Chapman songs all night. That's what people expected. When there's a black woman with dreads and a guitar, they'd be like, 'She's got to know Tracy Chapman.' And I would."
Fortunately her friend and manager Cassone would yell requests for original songs from the audience. Foster returned the favor by inviting Cassone up on the stage to play percussion and sing back-up. Now the two tour and play together.
After two independent releases and six years of touring the country, Foster's finally getting some notice. Produced by Lloyd Maines, Runaway Soul has been picked up for distribution by Blue Corn Music. Austin City Limits invited Foster to play a show with Susan Tedeschi. And for the first time, Foster and Cassone can be heard regularly on Americana radio stations.
But success probably won't budge Foster from where she belongs. "Texas is my home," she says. "It's like putting on a warm coat or a nice, cool straw hat." Besides, someone has to take care of Big Momma's house.
Others Tagged With