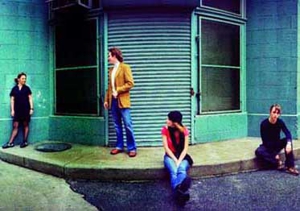 When a baseball player gets drafted, he knows he'll spend a few years playing the minor leagues getting ready for The Show—lots of games in front of small crowds, long bus rides from city to city and the ever-present uncertainty of making it big. Despite the tendency of major labels to give 20-year-olds their one shot and then move on, the world of pop music has long had its own minor league system. Thousands of singer-songwriters tour regionally and nationally with the help of independent labels, subsidiaries of the majors or on their own. Every issue, we choose a few of these artists to highlight in our "4 to Watch For" section.
But for this particular issue, we thought it'd be fun to spotlight a few of our absolute favorites—the hottest prospects of music's minor leagues. Each of these four has only an album or two under his or her belt, but we believe they're already producing music that will endure—songs like Kathleen Edwards' "Six O'Clock News," Erin McKeown's "Cosmopolitan," Sondre Lerche's "Sleep on Needles," and Josh Ritter's "Harrisburg" are too good to be forgotten.
We gathered the artists together for a photo shoot and a meal on Nov. 18 in New York's Chinatown. Though their styles are all very different—the alt.country of Edwards, the eclectic AAA mix of McKeown, the Bacharach-ian indie pop of Lerche, and the acoustic folk of Ritter—the four clicked almost instantly and chatted constantly during the shoot. "You really created a little community," said McKeown.
A few years from now, we'll be watching for their reunion… maybe at the Grammys.
Page 2 - Erin McKeown
Page 3 - Josh Ritter
Page 4 - Kathleen Edwards
Page 5 - Sondre Lerche
Pages 6-8 - More Photos by Lara Rossignol
Others Tagged With