American Music Legend Succumbs to Liver Disease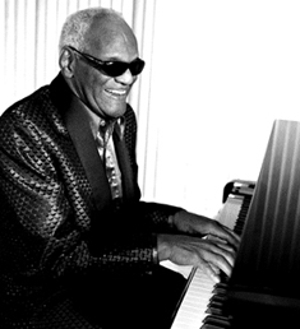 Beverly Hills, Calif. — Music legend and 13-time Grammy winner Ray Charles died yesterday at 11:35 a.m. at the age of 73 from complications due to liver disease, announced his publicist Jerry Digney, of Solters & Digney.
When he passed, Charles was surrounded by family, friends and longtime business associates at his Beverly Hills home.
Charles' last public appearance was alongside Clint Eastwood on April 30, when the city of Los Angeles designated the singer's studios a historic landmark.
Last summer, it was initially reported that Charles—born in Albany, Ga., Sept. 30, 1930, as Ray Charles Robinson—was suffering from "acute hip discomfort."
But when doctors treated Charles in Los Angeles and performed a successful hip replacement procedure, other ailments were diagnosed, including liver disease.
Prior to his death, Charles finalized a duets album, Genius Loves Company for the Concord label, his first new album since 2001. Norah Jones, BB King, Willie Nelson, Michael McDonald, Bonnie Raitt, Gladys Knight, Johnny Mathis and James Taylor are just a few of the artists involved with the project, which is scheduled for release Aug. 31.
"The duets project has been a tremendous experience," Charles said, at the outset of recording. "I am working with some of the best artists in the business, as well as some of my dearest friends."
Said Jo Foster of Concord Records, "We are truly grateful that we were able to work with [Mr. Charles] on his last recording and, like the rest of the world, will always be thankful to have the gift of his music. We will miss him not only for his artistic genius, but also for his exceptional personal character. He was an extraordinarily generous individual, a man of honor and tremendous integrity with an incredible sense of humor."
One of the many examples of his generosity and integrity, Charles recently okayed plans for the building of the Ray Charles Performing Arts Center at Morehouse College in Atlanta. Charles was also awarded the prestigious "President's Merit Award" from the Grammy organization just prior to the 2004 Awards show, and was named a City of Los Angeles "Cultural Treasure" by Mayor James Hahn during an African American Heritage Month ceremony in February. Charles also received the NAACP Image Awards' "Hall of Fame Award" on March 6 this year.
An accomplished pianist and songwriter, Charles was considered the father of soul music, a unique R&B forerunner to rock 'n' roll and other musical offspring.
During a career that spanned some 58 years, Charles recorded over 250 albums, many of them top sellers in a variety of musical genres. A true musical pioneer, Charles became an American cultural icon decades ago. Among his most memorable hits are "What'd I Say," "I Got A Woman," "Georgia," "Born To Lose," "Hit the Road Jack" and "I Can't Stop Loving You."
Charles also covered such popular fare as The Beatles' "Eleanor Rugby" and "Yesterday." Among the singer's most moving and enduring musical recordings is his oft-played rendition of "America The Beautiful."
And he appeared in movies, like The Blues Brothers, and on television, starring in commercials for Pepsi and California Raisins, among numerous others.
After going blind from glaucoma at the age of seven, Charles was sent to the St. Augustine, Fla., School for the deaf and blind, where he developed his enormous musical gift. The young pianist eventually made his way to Seattle, Wash., performing as a solo act, first modeling himself after Nat "King" Cole. While in Seattle, he met a young Quincy Jones and they became lifelong friends.
In the late 1940s, Charles established a name for himself in clubs around the Northwest, evolving his music and singing style, which later included the famous back up singers, "The Raelettes."
While in Seattle, he dropped the "Robinson" from his name to avoid confusion with the legendary boxer. A recording career began in earnest in 1949 and Charles soon started a musical experiment, mixing genres like jazz, blues, R&B, country, pop and gospel. These experiments manifested themselves in 1955 with the successful release of "I Got a Woman."
It's reported that in devising the song, Charles reworded the tune, "Jesus is all the World to Me," adding deep church inflections to the secular rhythms of the nightclubs. "I Got A Woman" is popularly credited as the first true "soul" record.
Last August, Charles—who hadn't missed a tour in 53 consecutive years—cancelled the remaining dates of his 2003 tour due to illness.
"It breaks my heart to withdraw from these shows," he said at the time. "All my life, I've been touring and performing. It's what I do. But the doctors insist I stay put and mend for a while, so I'll heed their advice."
While remaining in Los Angeles, Charles continued a light work load at his studios and offices, overseeing production of new releases for his own label, Crossover Records, mixing a long-planned gospel CD and beginning work on the duets album.
A feature film based on his life story, Unchain My Heart, The Ray Charles Story, starring Jamie Foxx as Charles, completed principal filming early last summer and is scheduled for release this fall. Also appearing in the film are Larenz Tate as Quincy Jones and Usher Raymond as Jackie Wilson.
Charles' final public performance was July 20, 2003, in Alexandria, Va.
"Ray Charles was a true original, a musical genius and a friend and brother to me," said Joe Adams, the entertainer's longtime manager and business partner. "He pioneered a new style and opened the door for many young performers to follow. Some of his biggest fans were the young music stars of today, who loved and admired his talent and independent spirit."
In addition to his multiple Grammy Awards (including one for Lifetime Achievement) Charles is also one of the original inductees into the Rock and Roll Hall of Fame and a recipient of the Presidential Medal for the Arts, France's Legion of Honor and the Kennedy Center Honors.
He was also inducted into numerous other music Halls of Fame, including those for Jazz and Rhythm and Blues, a testament to his enormous influence.
"You can't run away from yourself," Charles once said. "I was raised in the church and was around blues and would hear all these musicians on the jukeboxes and then I would go to revival meetings on Sunday morning. So I would get both sides of music. A lot of people at the time thought it was sacrilegious, but all I was doing was singing the way I felt."
Sixteen years ago, Charles established the Ray Charles Robinson Foundation for the hearing impaired. Since its creation, the foundation—with Charles' encouragement and generous, on-going funding, has blazed a trail of discovery in auditory physiology and hearing implantation. Each such implant procedure costs upwards of $40,000, which the Foundation pays to have done. And of some 145-celebrity charities, the Ray Charles Foundation is rated by non-profit experts as one of the top five most efficient with zero administrative overhead.
Early last summer, Charles performed his 10,000th career concert at the Greek Theater in Los Angeles and in 2002 also starred in a concert at the Colosseum in Rome, the first musical performance there in 2,000 years.
"Music to me is just like breathing," Charles once told an interviewer from USA Today. "I have to have it. It's part of me."
Despite recent health challenges, Charles was planning to again start touring in mid-June and the sudden setback in his recovery was a shock to all. Eleven children, 20 grandchildren and five great grandchildren survive Charles, who will be remembered late next week in a memorial service at the Fame Church in central Los Angeles with interment at Inglewood Cemetery in Inglewood, Calif.
Got news tips for Paste? Email news@pastemagazine.com.
Others Tagged With