Castle Studios - Nashville, Tennessee (1948)
Hank Williams - "Lovesick Blues"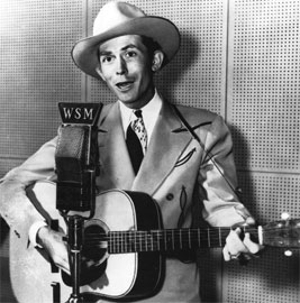 If only because it was the first recording studio in what would become Music City, USA, Castle Studios influenced music history as fundamentally as any other studio in the world. The brain child of three WSM Radio engineers who recorded the Grand Ole Opry broadcasts and the era's first syndicated radio specials, and who watched in dismay as all the country artists scurried off to New York or Chicago to record, Castle Studios was a child borne of necessity. Or opportunity. First begun in WSM studios after broadcast hours, the original studio didn't have space for the large lathe used to cut the vinyl. Instead, they sent the signal, via a dedicated phone line, to a room 12 miles away. They'd have to make a phone call to see if it was a good take. After moving to a separate room in the nearby Tulane Hotel, the early Castle Studios gave birth to nearly half the hits on country radio—and several on the pop charts—between 1947 and 1955.
In addition to playing a pivotal role in Nashville becoming a music center, Castle was the exclusive home to one of the 20th century's seminal artists. He was a young, unknown singer/songwriter from Montgomery, Ala., when he recorded his first demos there on Dec. 11, 1946. In early 1947 he recorded a little tune called "Honky Tonkin'," which won him a record deal with MGM Records. It was Hank Williams, of course. A little bit superstitious, Williams danced with the one that brung him and, though his success up to then afforded him his choice of studios, on December 22, 1948, he went into the no-frills, converted dining room that was Castle Studios, and recorded an old Tin Pan Alley tune called "Lovesick Blues." It became a 16-week number one, crossing over to the pop Top 25, and winning him an invitation to the Grand Ole Opry—and superstardom—cementing both Williams' and Castle's place in recording history.
To read about other classic sessions and the studios that shaped them, take a look at our feature, Just For the Record.
Others Tagged With