Mission of Burma - ONoffON
Matador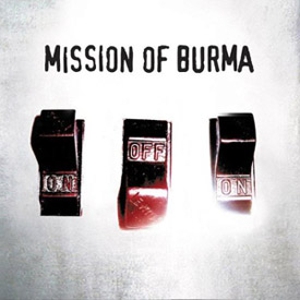 Though they've been gone for 22 years, having broken up in 1983 after guitarist Roger Miller's tinnitus grew so severe he could no longer wield the six-string responsible for his band's signature sound, Mission of Burma has persisted largely in the memories of fans. As such, the band has remained untouchable, its legacy as a seminal act tucked safely next to the Velvet Underground, The Stooges and Television in the annals of underground-rock history.
Where other similarly legendary acts have emerged from lengthy hiatus as bloated, ineffectual caricatures of their previous selves, ONoffON sounds utterly determined—from the frantic two-chord exorcism of "The Setup" to the swirling dissonance of "Absent Mind"—to shatter the comeback curse. The tricky balance between atonality and pop immediacy defining the group's previous releases remains largely intact, with the driving shout-along of "The Enthusiast" and scorched-earth guitars of "Wounded World" showcasing a band startlingly in touch with what made it so memorable in the first place.
You can hear unmistakable traces of the sound that turned up in the musical DNA of everyone from Pavement to Guided by Voices, and it seems innately appropriate that Mission of Burma continues to explore the template it helped establish. In this regard, the 16 tracks here generally pick up right where the band left off two decades ago, and it's nothing short of dumbfounding that the resulting years have done so little to dull their brilliance.
ONoffON is the rare comeback album that lives up to the hype, manages to extend and not diminish the band's legacy, and offers reason to believe the next chapter of the band's story may be just as compelling as the first.
Others Tagged With