Motown Studios - Detroit, Michigan (1971)
Marvin Gaye - What's Going On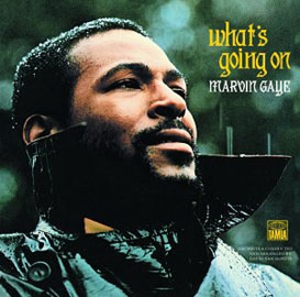 During its golden era (1959-1971), Motown's recording studio produced not only a jaw-dropping string of hits (nearly 70 percent of released singles entered the charts—357 in all) but the producers and musicians in the basement of 2648 West Grand—otherwise known as Studio A—created a new style, fusing elements of gospel, R&B, country and jazz into what is now known simply as "Motown." The Supremes, The Temptations, Martha and the Vandellas, The Four Tops, Stevie Wonder, The Jackson 5, Marvin Gaye and Mary Wells are among the best known, but there were dozens of hitmakers in the '60s-era Motown stable.
While it's common to talk about the "Motown Sound," in reality there were as many "sounds" emerging from Hitsville, USA, as there were producers. And chief engineer Mike McClean and his crew made sure all of them made it to tape. He took Studio A from a cobbled-together, 2-track facility in 1959 to the cutting edge of recording technology and kept it there until Motown founder and president Berry Gordy moved the center of operations from Detroit to L.A. in 1972. McClean and his crew gave Motown's recordings a live, bass-heavy sound that could make an AM car radio sound like front-row seats at The Apollo.
The recent recognition of Studio A's house band, The Funk Brothers—in the movie Standing in the Shadows of Motown—highlights one of the essential elements that fueled Motown's vitality over such a long period: the chemistry of a great rhythm section. Just listen to drummer Pistol Allen's propulsive two-handed shuffle on Martha and The Vandellas' "Heat Wave," or the immortal James Jamerson's squab bass lines on The Supremes' "You Keep Me Hanging On." And of course there's Robert White's indelible opening guitar line to "My Girl." Bass player and Funk Brother Bob Babbitt says the group could quickly hear when a particular player was hot. "They could tell when a certain member was really into a song and they had ways of working around him," he says. "The other guys really keyed off a great performance."
And some of the most inspired performances heard in Studio A occurred during the recording of the greatest Motown record of all, Marvin Gaye's What's Going On. "The arrangements for the music told the musicians there was definitely some groundbreaking going on," recalls Babbitt. "The music itself dictated where the sound was going." From David Van Depitte's soaring string arrangements to the boundary-shattering subject matter of social injustice, environmental consciousness and a direct, deeply felt faith in God, What's Going On set a standard for R&B records that's still unmatched. Three decades after its release, it continues to influence artists across the pop spectrum, and is widely regarded as one of the finest albums ever made.
Studio A was unique in that it was only ever used for Motown recordings—its history inextricable from Berry Gordy's original vision and ultimate triumph on the charts. And while, for many, Motown represents the advent of factory-style commercial music-making, the performances in Studio A and the passion brought to the songs recorded there gave them character and soul—they were calculated, to be sure, but never cynical.
To read about other classic sessions and the studios that shaped them, take a look at our feature, Just For the Record.
Others Tagged With