Sam Bush's Newest Grass Revival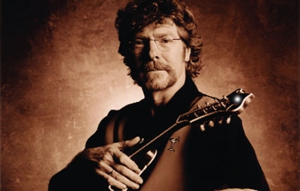 "We're not a bluegrass band," says Sam Bush. "We're a rock 'n' roll band that just happens to know a handful of bluegrass tunes."
With its first album in 1972, Bush and the somewhat revolving cast of New Grass Revival stretched the boundaries of bluegrass with their rock 'n' roll attitude, long hair, extended jams and adaptations of rock tunes, bringing a new audience to the music. "I was always a rock 'n' roll fan; I played electric guitar in high-school rock bands. We were all interested in rock, but my love of the mandolin drew me to bluegrass—that and the whole lifestyle, the camaraderie amongst all the bands. That doesn't really exist anywhere else."
A National Junior Fiddle Champ at ages 15, 16 and 17, Bush is equally adept on both electric and acoustic guitar. But the mandolin has always been his primary instrument, and he's taken it to places Bill Monroe never dreamed. Crackling with electricity, his joy and unsurpassed musicianship infects everyone on stage and in the crowd. If Sam is there, it's a party. In a single live set, he's liable to cover artists as diverse as Monroe, Bach, Freddie King, The Commodores and Bob Marley.
After New Grass Revival's break-up, Bush's energies went into a variety of projects: touring with Emmylou Harris, Lyle Lovett, Béla Fleck and the Flecktones; producing and playing on records; recording the Strength in Numbers project (a one-off collaboration with Jerry Douglas, Fleck and other fusion luminaries); creating instructional videos; and recording several excellent solo records. His latest, King O My World, features one of the strongest ensembles he's ever worked with—drummer Chris Brown, bassist Byron House and guitarist Brad Davis, along with former New Grass guitarist Jon Randall, keyboardist Reese Wynans, Larry Atamanuik and Andrea Zonn.
The musical selection is what you would expect from a Sam Bush album. There are three instrumental tracks, "Bananas," "Mahavishnu Mountain Boys" and the fiddle tune "Puppies N' Knapsacks." There's an energetic romp through the Grandpa Jones chestnut "Eight More Miles to Louisville," the tongue-in-cheek "Bless His Heart," and even a tribute to baseball great Ozzie Smith.
So what's left for Sam Bush? "I've been so lucky, getting to play with Doc Watson. When I was a kid sitting out in the audience, I never thought I'd ever get to sit on stage as his contemporary. I would like to someday be able to play with Eric Clapton, other than that, my main priorities are to continue to improve and to keep having birthdays—especially to keep having birthdays."