Sound Emporium - Nashville, Tennessee (1999)
Various Artists - O Brother, Where Art Thou?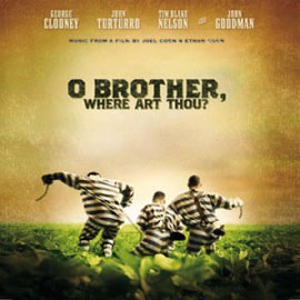 It's a mystical studio, and there are a hundred stories about strange—but wonderful—things happening during sessions. The enchantment of Sound Emporium is attributed, in part, to the studio's builder, "Cowboy" Jack Clement, legendary engineer, songwriter and producer, who, some say, had the Midas touch. Clement played on sessions, and engineered and produced records for Jerry Lee Lewis (it was Clement who recorded "Whole Lotta Shakin' Going On"), John Hartford, Iris Dement and Johnny Cash, to name just a few. Clement opened the studio in 1969 and built a perfect echo chamber without any acoustical-engineering blueprints.
In the spring of 1999, another legendary producer birthed a project at Sound Emporium that indelibly changed the way traditional American music was perceived. Engaged by the Coen Brothers to provide music for their film, O Brother, Where Art Thou?, T Bone Burnett knew Sound Emporium was, as he puts it, "the best sounding room I've ever been in to record acoustic music." One of the largest tracking rooms in Nashville, Studio A has a blacked ceiling that gives the illusion of being under a night sky. Structural elements, like hundred-year-old barn wood and "silo-looking things" clinch the details. And with Burnett's homey touches, Studio A was turned into his very own back porch.
Whether it was the vibe of the room, the considerable skills of Burnett and engineer Mike Piersante, or even the spirit of Cowboy Jack, the O Brother soundtrack sold six million copies in under two years without any mainstream-radio airplay, converted or reintroduced a gazillion music lovers to traditional music, and (perhaps most delightfully) delivered a sharp-toed kick to mainstream country's groin—payback for ignoring acoustic music for the last two decades.
To read about other classic sessions and the studios that shaped them, take a look at our feature, Just For the Record.
Others Tagged With