Drive-By Truckers
The Rise, Fall and Redemption of the Redneck Warrior Poets of Rock 'n' Roll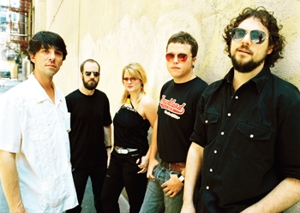 TEN, NINE…
This is a story about rock 'n' roll.
EIGHT…
It's a story about rock 'n' roll and a few boys—and, much later, a gal—from Northwest Alabama, who head out on the road—searching souls ramblin' the highways of America, tearing up the countryside like a Tuscumbia twister…
SEVEN, SIX…
This is a story about rock 'n' roll and a band called Drive-By Truckers, a bunch of irreverent bastards with good hearts and big dreams, ready to show the rest of the world what The South is really all about, who wind up in Athens, Ga., where you don't have to play in a cover band, where it's cheap to live and there're plenty of people to make music with …
FIVE, FOUR, THREE…
And it's a story about everything you have to go through to get people to hear your music in the first place—all the bullshit they never tell you about when you're a runaway kid at a Springsteen concert with delusions of rock 'n' roll grandeur: endless nights in stinking vans, stolen equipment, broken hearts, electrocution, hangovers, backstabbers, bad weather, divorce, death and destruction. And, if you're lucky, you might live to tell about it, and you might live to do a whole lot more crazy, stupid shit…
TWO, ONE…
HAPPY NEW YEAR
All that's visible is a pair of glowing red EXIT signs. Suddenly, the black curtain flies open, and the Truckers—flanked on either side by dark crimson walls and white concrete pillars—stare out from the stage's darkness at over a thousand screaming fans. It's New Year's Eve at Atlanta's Variety Playhouse and the place is sold-out. An ominous drumbeat pounds over the deafening roar, and the spotlight illuminates Mike Cooley, black-and-white Flying V guitar slung over his shoulder, as the band breaks into "Where the Devil Don't Stay," the lead track from their new record, The Dirty South. Clad in faded blue jeans and a black button-up, embroidered roses on the collar, Cooley looks like Keith Richards' long-lost little brother.
Jason Isbell cranks out vicious slide licks from his hollow-body guitar as frontman Patterson Hood strums away, thick mop of brown hair flopping while his toothy grin lights the room with mischief. The stage is a sea of Marshall stacks and Fender combos. Bassist Shonna Tucker—dressed head-to-toe in black—locks in with thick armed-drummer Brad Morgan, to whom the band lovingly refers as "EZB."
After a year involving label changes (Lost Highway to New West), shifting band members (bassist Earl Hicks left in late 2003, making way for Isbell's wife, studio veteran Tucker), and increasing success (the band's Decoration Day proved the critically lauded Southern Rock Opera was no fluke), the Truckers need a little release to ring in 2004. And it comes in the form of "Hell No, I Ain't Happy." Patterson screams the chorus into the mic as the crowd—-hippies, indie rockers, frat boys, clean-cut adults, bikers and every other demographic you can think of—sings along, fists pumping, PBR longnecks held high in defiance. This is mass catharsis. All the pain, failure and shortcomings of the past year mean nothing now—-they've been temporarily erased by this reckless, unapologetic rock 'n' roll.
As the band counts down to the New Year, multi-colored balloons descend on the crowd. Hood kisses his soon-to-be wife, Rebecca, and manager Scott Munn douses the band and the first few rows with champagne. After years of hard work, it's the Truckers' time to celebrate. But sometimes it seems they can't shake the hard luck always nipping at their heels like Robert Johnson's infamous hellhound.
In the middle of "Zip City" the sound cuts out, bringing the party to a grinding halt. Furious, Cooley slams his red SG to the ground—snapping the headstock from the guitar's neck—and storms offstage. Hood assures the crowd that as soon the problem's fixed, they'll be "back to finish the rock show."
A few minutes later the band returns, sans Cooley. Hood plays the intro to the anthemic "Let There Be Rock" and the band falls in. They jam for a minute, and finally, Cooley emerges from backstage with a beer in his hand and a fiery look in his eyes. He straps on a new guitar as Hood ad libs some lyrics, "I'd like to say I'm sorry, but it's New Year's Day 2004, and I'm standin' here in Atlanta, Ga., and the power's blinkin' and everybody's drunk, and guitars are getting smashed … AND I AIN'T SORRY FOR A GODDAMNED THING!"
THE NIGHTMARE TOUR
"Being a musician myself, I didn't want Patterson to go into that. It's not a settled life. You're gone a lot, there's travel involved—weeks when you don't work, and weeks when you're just covered up. I wanted him to be a pharmacist or a lawyer. But you could tell right from the start he wasn't gonna be."— David Hood, Patterson's father and founding member of the famed Muscle Shoals Rhythm Section.
In 1985, when Mike Cooley met Patterson Hood, the latter was failing out of college. And it wasn't long before he took his new buddy with him.
"Mike was doing good before I met him," says Patterson. "His mama's never forgiven me for that. He was a straight-A student, practically."
"No, I was average," Cooley interjects. "I wasn't Dean's List, but I wasn't on academic probation, either."
And the first time they met?
"I cussed him over the phone," says Cooley.
"I thought he looked like Gilligan," says Hood.
But they soon got past their differences. At least enough to start a rock band, which they called Adam's House Cat. At first, it wasn't pretty. But hope came in the form of an older drummer who'd cut his teeth in lounge-type bands on the hotel circuit. Chuck Tremblay was so sick of playing other people's music that he swore he'd never be in another band again unless it performed all original music. And that suited Cooley and Hood's plan just fine.
"In Muscle Shoals at that time, there were only cover bands," says Hood. "You could play the recent hits up at The State Line and put a hundred bucks a night in your pocket, and that's about as far as you ever think you're gonna go. So trying to put together a band, playing our own songs, was difficult. But Chuck fit perfectly. He took us under his wing and taught us how to be a band."
Adam's House Cat lasted six years and, while Hood and Cooley honed their rock chops, the band had one heartbreak after another. The low point was The Nightmare Tour in 1988. The band hit the road hard, playing 40 shows around the Southeast, but that aforementioned hellhound was on their trail. Cooley's father fell ill and died of cancer. Soon after, $1,500 worth of equipment was ripped-off from the back of the band's truck. Then, in Tuscaloosa, someone stole Hood's wallet, which contained the band's gig money and a two-week paycheck. Distraught, they headed back to Florence, Ala., for what was supposed to be their triumphant return.
For the homecoming show, the band rented the Shoals Theatre, hired an opening act and placed ads in the local paper. They expected 400-500 people. But that evening, just before soundcheck, a tornado ravaged the town, destroying several homes and a truck stop. Only 17 people showed up and Hood had to take out a loan to cover the band's losses.
By 1994, Hood left Alabama and ended up in underground-rock mecca Athens. There he rediscovered country music (via Loretta Lynn), which snapped him out of a writing slump. He worked sound at the High Hat and 40 Watt clubs, where he first encountered Redneck Underground-scene legend Gregory Dean Smalley, who fronted a band called The Diggers. Smalley was dying of AIDS but refused to quit doing what he loved best. And, without want for sympathy, he played his music 'til the end. His strength and determination inspired Hood, who wrote a song about it after Smalley died (and just before the Truckers were born) called "The Living Bubba." "Smalley's story is a sad one," says Hood, "but there's much to be gained from it. It changed my life, and writing that song changed my life. It set the standard for Drive-By Truckers."
Before long Cooley moved to town and Hood booked a studio to record a new collection of songs, some of which wound up on Pizza Deliverance and Gangstabilly, the first two Truckers albums. Riding high on the fuel of Smalley's inspiration, the fledgling band hit the road and didn't look back.
THE LITERATE SOUTH
Exactly five months after New Year's Eve, the Truckers amble about the stage at Augusta, Ga.'s Imperial Theatre while the crew sets up lights and sound, taking special care no one gets fried by a bad connection like Cooley did at SXSW.
The band's been touring most of the year but has still cranked out a slew of new releases. Hood's Killers & Stars—a collection of lo-fi four-track demos he recorded after his first marriage broke up in 2001—is finally seeing daylight (Why? "Closure," he says). Isbell also has a soulful solo record in the works (co-produced by Hood) that'll likely be out next year. But the crown jewel is the band's latest, the David Barbe-produced Dirty South. A wilted magnolia blossom in the muddy clay, the record spins yarns about the economic ruin and bleak desperation of the impoverished pockets of the South, with a few sinister redneck mafia tales (inspired by the film Walking Tall) thrown in for good measure.
In the wake of the storytelling and brilliant lyrics of their last three records, the Truckers—and their three singer/songwriter/guitarists—have cemented their legacy as the band that brought Southern Rock to a new level of literacy, penning intelligent and heartfelt tunes like "Sounds Better in the Song," "The Three Great Alabama Icons," "Outfit," "Cottonseed" and "Puttin' People on the Moon."
"We didn't really intend on these albums being a trilogy," says Hood, "but it kind of worked out that way. Southern Rock Opera is the more idealized, 'someday I'm gonna grow up and be a rock star' view of it all. Decoration Day deals with the results of the choices you make, and The Dirty South is about people who don't have a choice."
After years of shifting lineups and personnel changes, the Truckers seem to have finally found the magic combination. "There's been a lot of generations of this band," says Hood, "and there's good things to be said for all of 'em. But there's so much besides being good that makes it the right thing. It goes beyond playing—how well you communicate with each other, how well you can put up with each other in cooped quarters for months on end. But this is the pinnacle. It's so far beyond the band I dreamed of as a teenager that I'd just as soon not continue without a single one of the people in this lineup.
"And I like having two other writers in the band who kick my ass on a daily basis. It pushes everybody to be better, and I love that. That's what makes us the band we are. Not to mention Shonna's a great writer, too, which no one even knows yet. I look forward to doing a record where everybody co-writes instead of having individual song credits. That seems like the next step of the evolution to me. With everyone doing solo projects and side projects, it seems that much more feasible to have the record we do together be more of a group effort than ever before."
LOOK FOR THE LIGHT AT THE END OF THE TUNNEL (AND HOPE IT AIN'T A TRAIN)
It's been a twisted path down many a lonely highway, but times are changing for the Truckers. The saving power of Rock 'n' Roll has led to redemption; they can finally see the light at the end of their hellish tunnel. Jason and Shonna, EZB, and Patterson have all recently married, with multi-talented friend/producer/musician/wiffle-ball legend—and now, reverend—extraordinaire David Barbe performing the latter's ceremony. ("I think he's found his true calling," Hood says.) And to top it off, Cooley and his wife added a son to their family last year, the first DBT offspring ("the demon seed," Isbell jokes).
Now wait just a minute—what's with this cutesy happy-ending horseshit? This a story about rock 'n' roll, right?
"Ever since that kid's been born," says Cooley, "I ain't been able to write a goddamn thing. And that's the honest to God truth. I'd love to sit here and say, 'Oh, it's wonderful, it's magical, and reedeereedee-dee,'" he coos, in gurgling baby talk. "I love my son. I'd kill for him. I would, literally. But I can't write a goddamn thing to save my ass. But I'll work through that. I've been at this point before, and I'll emerge and I'll kick ass again. But it's changed everything. It changes the way you live, the way you think. It's a life-changing experience—and some of it's for the better, and some of it's not."
THE LIVING TRUCKERS
After midnight at The Imperial Theatre, the Truckers are in the middle of another set. But tonight's special. Greg Smalley's 15-year-old son is in the audience, and it's his first rock show. Earlier, he let Patterson play some of his daddy's guitars and, in turn, Patterson told him about how Greg inspired the band. Now, the bittersweet opening chords of "The Living Bubba" ring throughout the theatre and Smalley's kid and the rest of the crowd listen, enraptured. And Hood sings—maybe for the thousandth time—but the words that have become an anthem for this band don't lose their luster. Not one bit.
"Some people stop living long before they die / Work a dead-end job just to scrape on by / but I keep living just to bend that note in two / and I can't die now cuz I got another show to do …"
Others Tagged With