Lovedrug - Pretend You're Alive
The Militia Group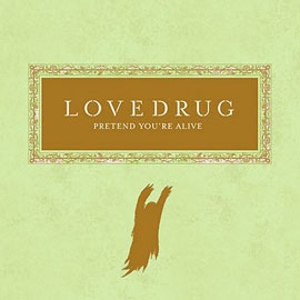 If imitation really is the sincerest form of flattery, no band has been more flattered over the last decade than Radiohead. Lovedrug belongs more to the generation of bands that emerged in the immediate post-OK Computer, pre-garage revival era than they do the sonic flavors of the current day, and Pretend You're Alive applies the same ratio of paranoid soft-throated vocals, majestic electric- guitar climaxes and melodic turns that seemed to peak with Iceland's Sigur Rós before giving way to Radiohead's electronic experiments.
Lovedrug understands balance, and the album's song cycle is perfectly (if somewhat predictably) slated so that no thematic mood is repeated in succession. These alternating shifts between shimmering mid-tempo ethereality ("Spiders") and propulsive, muscular anthems ("Rock and Roll") proves a durable formula, allowing the constituent elements in their mix to emerge isolated on the more serene tracks and to disappear back into the glimmering haze during the more driving rockers. No better example of that dynamic exists than the one-two punch of the title track, with its piano and anguished vocals and the scorched-earth guitar assault that follow in "Pandamoranda," a song with more quasi-grunge sludge than might be reasonably expected from a band with such pristine sonic inclinations. Such mixing and matching is a rather obvious trick, but it's worked for everyone from Little Richard to Nirvana, and few bands in recent memory have been so adept at keeping that balance perfectly struck.
Lovedrug is still communicating in languages spoken more fluently by other bands, but they get farther in applying their deep understanding of those already established strictures than many bands who too eagerly grope toward innovation and never realize their creative identities. Of course that's not to suggest they emerge with anything even remotely resembling their own sound, as everything from the cataclysmic sonic swirl to the helplessly mumbled sentiments have been adopted more boldly by others. It does just about everything a debut should, but chances are it will leave you humming a Radiohead song instead of one of its own.