Paste Secures Weekly Spot on CNN Headline News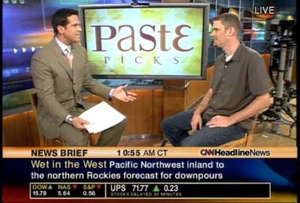 On July 13, Paste Magazine editor Josh Jackson and publisher Nick Purdy (pictured above) appeared for the first time as guests on a CNN Headline News entertainment segment called "Paste Picks."
The segment, which now airs every Tuesday, highlights three albums released during the current week. The goal is to introduce a mainstream audience to "under the radar" music they might not otherwise be exposed to.
"Paste's weekly segment on Headline News spotlighting emerging artists and bands helps keep our viewers current on new music," says Dave Siff, Headline News Executive Producer.
The bands already featured on the segment include The Polyphonic Spree, The Roots, Mutual Admiration Society, Badly Drawn Boy, Old 97's, Tommy Stinson, Damien Rice, The Mooney Suzuki, Griffin House, Rilo Kiley, Mavis Staples, Drive-By Truckers, The Finn Brothers and Guided By Voices.
The segment airs each Tuesday at 11:24 a.m. EST.
Got news tips for Paste? Email news@pastemagazine.com.