Sonic Youth
Parenthood, Pop Culture & Protest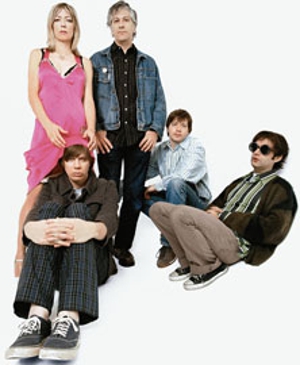 Despite the added time constraints of parenting and various side projects, it appears Sonic Youth has no intention of slowing. Sonic Nurse, the group's 19th LP in 23 years, hit record stores this summer and the band was slated to headline Lollapalooza until the festival was canceled in late June. It's surely a disappointment for the noise rock legends since bassist Kim Gordon and guitarist Thurston Moore had planned to tour around their 10-year-old daughter's summer vacation. "We have to tour when our daughter is out of school," says Gordon.
Sonic Youth—now comprised of Gordon, Moore, Lee Ranaldo (guitar/vocals), Steve Shelley (drums) and recent addition, utility man Jim O'Rourke — continues to explore new aural territory with increased political vigor. The most blatant examples on Sonic Nurse are Moore's dreamy "Peace Attack," Ranaldo's "Paper Cup Exit" and Gordon's fierce media critique "Kim Gordon and the Arthur Doyle Hand Cream," which initially featured pop diva Mariah Carey's name instead of Gordon's. "They were afraid Mariah could sue us if she had a bad day," Gordon says. "[But] it's really pro-Mariah, It's meant to be more anti-corporate and more about the media and our obsession with celebrities."
Commentary on celebrities isn't new to Sonic Youth. In 1989, under the name Ciccone Youth (Madonna's last name), the band recorded The White(y) Album. "I can't believe we were ever allowed to do a record like Ciccone Youth where we actually used Madonna's record on our record and sang along with her," Gordon says. "You could never do that now."
Times were different then. It was before the band signed to Geffen, before children, before the 9/11 terrorist attacks (which damaged the band's Murray Street studio in New York) and before the war that followed. With a presidential election on the horizon, some members of Sonic Youth remain staunch opponents of the current administration.
Moore is the proprietor of protest-records.com, a free-music website enabling musicians to "fight the good fight" in the face of "greed, sexism, hate crimes and war." Gordon is also outspoken about her political views. "Everyone should vote," she says. "Liberals tend to be too-cool-for-school and don't actually go to vote. Republicans vote."
Others Tagged With