Standing By Words
John Gardner's Moral Artistry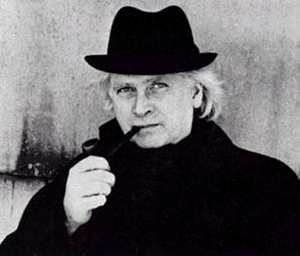 "I seem incapable of writing a story in which people do not babble philosophically," the late John Gardner once joked. But it's his characters' need to understand that gives them their vitality. From fat, nerdy Henry Soames ruminating about mortality in the back of his rural truck stop (Nickel Mountain) to James Page issuing polemics in his kitchen (October Light), Gardner was uniquely skilled in creating rich mental lives for non-intellectual characters. But even his subtlest backyard metaphysicians would have trouble explaining how Gardner's wondrous, variegated body of work has fallen out of print since his death in 1983.
The eclipse of Gardner's reputation is inexplicable, just the kind of absurdity with which he wrestled mightily in novel after novel. How, Gardner often wondered, do we affirm value and goodness in a universe that seems at least partially disordered—where entropy and decay, not virtue and craft, apparently have the last word? These questions are central to The Sunlight Dialogues, Gardner's masterpiece, in which a decent, by-the-book cop must confront the enigmatic Sunlight Man, a wizard whose anarchic philosophy and acts of violence embody the Void—the seeming irrationality of existence. Fred Clumly, with the help of his wife, Esther, must overreach the limits of his law-and-order belief system, imagining and even empathizing with the Sunlight Man's mental world in order to defeat him.
The novel is typical of Gardner's works for its clear, musical sentences, its compelling cast of characters, and its mixture of conventional realism with a tinge of the supernatural, as well as a penchant for caricature borrowed from Dickens. It's typical, most of all, in its depiction of what critic George Gaudette calls Gardner's "moral artists," characters who through creativity and imagination learn to accept the jarring realities—like social upheaval and death—that seem to undermine life's structure. In John Gardner: Literary Outlaw (Algonquin), Barry Silesky attempts to be such a moral artist, rescuing Gardner's reputation from oblivion and injecting some justice into the world of letters. Does it work? Not entirely. Silesky provides a rough sketch of Gardner's life—his accidental killing of his younger brother at age 12, his tempestuous marriages and literary success, his drinking habits and fights with other writers. But the biographer barely allows the novelist himself to speak, and nowhere explains how a man so obviously imbalanced wrote novels of such luminous sanity.
But the attempt, imperfect as it is, remains commendable. Something of Gardner's personal energy and ethical vision comes through—his wish for all of us to become moral artists, comprehending the incomprehensible through empathy and imagination.
Finishing the book, I recalled Clumly's speech at the end of The Sunlight Dialogues, when his encounter with anarchy in the person of the Sunlight Man has clearly shaken even his most rooted beliefs: "Blessed are the meek, by which I mean all of us, including the Sunlight Man." There is silence, then thunderous applause, which Gardner describes as "bearing him up like music or like a storm of pigeons … The Mayor was there at his side, surging upward … And Clumly, in a pitch of seasickness, caught him in his arms and said 'Correct!' and then more wildly, shocked to wisdom, he cried, 'Correct!'"
Others Tagged With