Bright Young Things
Directed by Stephen Fry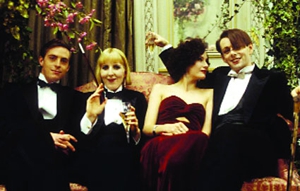 Stephen Fry achieved BBC immortality with his portrayal of that most famous gentlemen's gentleman, Jeeves. Teamed with Hugh Laurie as Bertie Wooster, Fry's responsible butler to the gadabout aristocracy of the 1920s was well-pronounced, dry and hilarious; a remarkably successful realization of P.G. Wodehouse's literary creation. Since Jeeves & Wooster, Fry has become a noteworthy comedic author and has appeared in a series of small film roles. Bright Young Things—an adaptation of Wodehouse contemporary Evelyn Waugh's Vile Bodies book—marks his directorial debut, and Fry achieves a highly pleasing result, in some small way revitalizing classic British cinema.
The subject here is empty celebrity, as 1930s London celebutantes flit about, drink about and romance about, but do not work about. They are the Paris Hiltons of their day, though better dressed, with better background music. As the film's tagline goes, "Sex, Scandal, Celebrity… Some things never change." Those once scintillating words are perhaps fatigued nowadays, but this satire of superficiality in a time of war certainly holds lessons for our own time. In truth, this tale of a society from 70 years ago is quite modern.
Stephen Campbell Moore, playing struggling-writer-cum-gossip-columnist Adam Symes, is the viewer's guide. In his feature-film debut, the Royal Shakespeare Company actor perfectly captures the unlucky, unaware and pessimistic detachment so often found in Waugh's heroes. Emily Mortimer, as Nina Blount—Adam's hedonistic, trust-fund-inheriting fiancée—whirls about, dancing destruction, but as with so many of the characters, she and Fry create a humanity that elicits sympathy. Michael Sheen continues to show himself as one of the more endearing, light-footed British actors of his generation, delightfully decadent as a dandy. Peter O'Toole, Stockard Channing, Dan Aykroyd and others make appearances; even 96-year-old Sir John Mills makes a cameo.
Fry knows his British cinema history and he nods to the masters: the great Alec Guinness with his '50s black comedies, and The Archers' Michael Powell and Emeric Pressburger with their sublime, colorful '40s creations. Fry has reached back past Hugh Grant comedies and the middlebrow period pieces of Merchant and Ivory—which have come to define so much of modern British cinema—creating a film of elegance and fun, not triteness or pomposity.
Others Tagged With