Camper Van Beethoven - New Roman Times
Pitch-A-Tent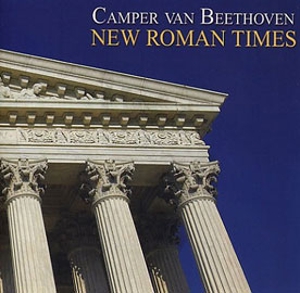 It's a well-known fact that defunct legendary bands only reunite for cash-generating tours in support of greatest hits CD packages. Just look at The Who, The Eagles, even the Pixies. But apparently someone forgot to cc: Camper Van Beethoven on that particular memo. After disbanding in 1989, few expected to hear from the unit again, particularly considering frontman David Lowery's major-label success with Cracker. Then in 2002 they did something odd even by CVB standards, quietly releasing a song-for-song cover album of Fleetwood Mac's storied double-album Tusk (which the band had previously recorded during a 1987 hiatus). Now, for its first release of original material since Key Lime Pie, the Camper offers New Roman Times, a political-fantasy rock opera; audacious, overblown and like nothing else you're likely to hear this year.
The songs explore a land in the grips of war and negligible civil liberties. But rather than attack the Bush Doctrine head-on, New Roman Times subverts its subject through the ramshackle story of a young Texas soldier's surreal adventures navigating a badly broken system. Our hero volunteers for an elite military outfit, fights civil unrest in California, loses a foot, embraces drugs, lands a job with a mega-corporation, then winds up pledging his devotion to "Hippy Chix" as a member of the "CVB." Sufficed to say, it's a biting and rather messy lampoon of nationalistic fervor and political high jinx.
Boasting the band's original line-up, New Roman Times follows a natural continuum from Key Lime Pie, with dashes of every style under the sun and Lowery's cock-eyed lyricism intact. Even for its faults, the disc is a remarkable return to form. Camper's signature blend of rock energy with off-kilter Eastern time signatures is evident from the start on "Sons of the New Golden West," with its tight interplay between Lowery's guitar and Jonathan Segel's violin. Other highlights include the psychedelic twang of "That Gum You Like is Back in Style" and the funk/ska riff of "Hey Brother." While at times a bit ham-fisted in its polemics and scattershot in its approach, the disc is adventurous and fresh.
Others Tagged With