Elliott Smith - from a basement on the hill
ANTI-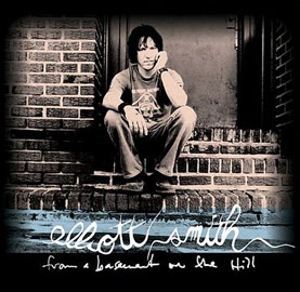 "You know Frank Sinatra? He's dead! Ha ha ha ha…" So goes to the hook to "Frank Sinatra," the cynical yet irrepressible 2000 synth-pop single by Miss Kittin & the Hacker. It's impossible to imagine anyone composing a similar lyric about singer/songwriter Elliott Smith, mainly because his disciples treated him like a precious object. But while it's true Smith was indeed a soft-spoken performer, and shy around strangers, there were aspects of his personality outsiders rarely glimpsed. He was extremely well-read. His sense of humor, albeit self-deprecating, was bountiful. When mad or disappointed, he was capable of vitriolic rants that would shock devotees of his quiet vignettes.
Because of his sudden death in October 2003 from two knife wounds of undetermined origin to the chest, even casual Smith fans—if such creatures exist—will undoubtedly scrutinize from a basement on the hill closer than his previous albums. (The disc features 15 tracks, all recorded before Smith's death; friends and family assumed post-production responsibilities.) Some will choose to concentrate on details confirming Smith as a classic tortured artist a la Nick Drake. But hopefully more people—picking up where 1998's Figure 8 left off—will note the broad scope of his music and lyrics, and celebrate the roundness of his character, something listeners frequently overlook.
The disc kicks off with "Coast to Coast," a gritty rocker laced with piano, signaling that this will not be a hushed affair in the mold of his 1995 self-titled sophomore breakthrough. What's more, some of the finest cuts on basement are ones in which Smith and his cohorts indulge their more raucous tendencies; "Shooting Star" is a six-minute, ramshackle rocker wherein our hero lays into a young vixen leaving a wake of broken hearts behind her, pausing just long enough to reiterate his relief at escaping her talons. The closing track, "A Distorted Reality Is Now A Necessity To Be Free" is propelled by funky keyboards and martial drums, as Smith eviscerates individuals who elect to live in comfortable conformity.
Elsewhere, the hushed yet lively "Let's Get Lost" and "Little One," as well as the baroque keyboards of "A Passing Feeling," remind us that The Beatles and Paul Simon were key influences. "Pretty (Ugly Before)" feels especially optimistic, as Elliott announces, "I feel pretty / Pretty enough for you" over sweetly strummed guitars and sprightly keyboards. These flashes of happiness offset darker numbers, such as "Kings Crossing," which starts out with just organ and spooky sound effects, then piles on instrumentation as the narrator's tale rapidly devolves into tragedy, concluding on a table (or mortuary slab?) in a hospital.
Listeners combing for possible clues to Smith's state of mind in his final months will find plenty. Despite its jaunty melody, when he croons about "your little house on Memory Lane" ("Memory Lane"), one can't shake the feeling he's referring to an asylum or rehabilitation clinic. "A Fond Farewell," with its powerful melody and country-tinged guitars, could be read as a kiss-off to drugs, or a friend addicted to drugs, or maybe just a dear friend; a similar ambiguity runs through the words of the high and sweet "Twilight."
The only track on basement that can be taken at face value is "Ostriches & Chirping," a 30-second snippet of bird calls. All else is subject to individual interpretation. Were these songs cries for help from a troubled soul, or efforts to reconcile his personal struggles with a strong desire to remain a productive artist? Sadly, we will never know. Only this is certain: from a basement on the hill is a fitting farewell to a distinctive voice silenced too early.
Others Tagged With