Mavis Staples
Faith in Hard Times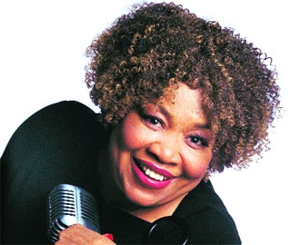 Mavis Staples is singing to me over the phone, and I'm shaking my head, thinking I must be dreaming. It's not every day that a legendary voice gives you an impromptu private concert. "Pops would do a lot of call-and-response songs, you know, and he would start out like this … (sings Pops' line) … and then we children would come in behind him like this … (sings her line). And we did all right with that approach."
Decent enough. As in membership in the Rock and Roll Hall of Fame, performances for several presidents, a vital role in the Civil Rights movement alongside Dr. Martin Luther King, a few #1 hit singles, recent guest appearances with Bob Dylan, Dr. John and Los Lobos, and 50 years of superb gospel recordings. Yeah, you've done OK, Mavis.
Staples' new album, Have a Little Faith, her first for legendary Chicago blues label Alligator Records, continues that long tradition of gospel excellence. Full of the same soul- and rump-shaking bliss of classic gospel/funk hybrids like "I'll Take You There" and "Respect Yourself," Have a Little Faith's 12 songs conjure potent memories of the great Atlantic/Stax Staple Singers hits from the early '70s. The common denominator, of course, is Mavis Staples' remarkably rich contralto, her command of phrasing and timbre that can move from the softest, sweetest purr to a throaty roar within seconds. It's one of our national treasures, and it's fully displayed on Have a Little Faith.
"I'm not trying to do anything fancy," Mavis says. "Pops told me a long time ago, 'You don't need no gimmicks to sing God's music. What comes from the heart reaches the heart.' I believe what I sing, and I want to reach peoples' hearts. I'm not going to abuse the blessing I've been given." There's little chance of that given the powerhouse performances and straightforward gospel messages of the songs. "Step Into the Light" and "I Wanna Thank You" are joyous affirmations of faith, while "God is Not Sleeping" is a quiet, pensive reminder of the love and care of God in the midst of personal turbulence. One gets the impression that Mavis sings the song to remind herself of some eternal truths as much as she sings it for us.
The singer who first rose to prominence half a century ago on the strength of the gospel single "Uncloudy Day" has recently experienced some unexpectedly dark clouds, and the new millennium has been far from kind to Mavis and the extended Staples family. Patriarch Roebuck "Pops" Staples passed away in 2000. Always a model of gentility, gentleness and moral strength, Pops is missed for far more than his undeniably great musical contributions. "He was my father," Mavis says simply, but there is a world of grief that lies just beneath the surface. Mavis' sister Cleotha was diagnosed with Alzheimer's disease in 2001. And, incredibly, Mavis herself was without a record label for several years, her work deemed too "old school" for modern audiences. Those trials are reflected in the choice of material on Have a Little Faith, from the chilling arrangement of Blind Lemon Jefferson's "See That My Grave is Kept Clean" to the cautionary "There's a Devil on the Loose" and the 9/11-inspired "In Times Like These."
Through it all, Staples remains refreshingly upbeat and humble. "I'm still alive," she says, laughing. "I'm 64 years old, but I still feel like a little girl. I'm a singer, and I'm happiest when I'm singing. It's what I do, and it's my gift. So anytime someone asks me to sing, I figure this is my chance to glorify God. [Alligator Records founder and CEO] Bruce Iglauer left the nicest message for me on my answering machine when I was shopping for a new record label. I saved it and replayed it for days afterwards. I'm thrilled to be a part of his company. Blues and gospel have always been first cousins, and Alligator has been as supportive and gracious to me as you could imagine. So I'm very hopeful about the future."
And that hope extends beyond even the grave itself. "I had to include 'Will the Circle Be Unbroken' on the album," she says. "You know that song. We've recorded it before, on Staple Singers albums. That was the first song Pops taught us children. I was maybe six or seven years old. And we literally sat in a circle, and Pops taught us all our parts. Right now the circle is broken. Pops died in December of 2000. My sister Cleo doesn't know who I am sometimes. But that's a song about heaven, you know? And the circle will be unbroken again."
It's a wish and a prayer that the most hardened atheist would not deny. In the meantime, that heavenly voice continues to witness to the greatness of God and the incomparable hope of new life. It's the family way.
Others Tagged With