Paul McCartney to Auction Signature Guitar for Charity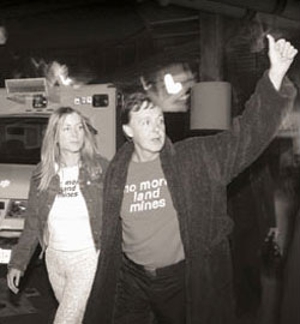 Paul McCartney, along with Gibson Guitar, announced today that the first Paul McCartney 'Signature 1964 Epiphone Texan' #001, will be auctioned to benefit Adopt-A-Minefield, the landmine clearance and survivor assistance campaign. The guitar, an exact replica of the one McCartney used to write and perform "Yesterday," will be signed and made available to bidders around the globe exclusively at www.charityfolks.com and www.gibson.com.
Bidding begins on Wednesday, Oct. 6 at 8:00 a.m. EST and concludes on Wednesday, October 14 at 2:00 p.m. EST.
The online auction will coincide with the Adopt-A-Minefield Los Angeles Gala hosted by Sir Paul McCartney and Heather Mills McCartney on Friday, Oct. 15 at the Century City Plaza Hotel. The event will feature a live auction of the second 'Signature 1964 Epiphone Texan' #002, and will be hosted by late-night host Jay Leno. McCartney and singer/songwriter Neil Young will be brought together for a special performance.
The guitars being auctioned are part of the first of a run of 40 hand-built Epiphones, which will be produced in the United States by the Gibson Guitar Corp. under the supervision and direction of Sir Paul McCartney himself. They are serial numbers #001 and #002 and will be signed. The guitars celebrate the 40 years since that historic Ed Sullivan performance, for which it was used. They are each hand-aged to duplicate McCartney's Epiphone as it appears today.
The Oct. 15th Adopt-A-Minefield Gala will be hosted by Paul and Heather to raise awareness of the landmine problem, a crisis that affects over one-third of the world's nations. During the first three years, this event has raised over $2.3 million and has attracted the support of celebrities and citizens worldwide. Since its launch in 1999, the Adopt-A-Minefield Campaign has raised over $12 million for mine action, clearing over 18 million square meters of land and helping thousands of landmine survivors.
For tickets and table packages, please contact Levy, Pazanti & Associates at 310-201-5033. For celebrity and press invitations please contact Evelyn Karamanos at 310-205-0618.
To learn more aout Adopt-A-Minefield, please visit www.landmines.org.
Got news tips for Paste? Email news@pastemagazine.com.