Tom Dowd and the Language of Music (DVD)
Directed by Mike Moormann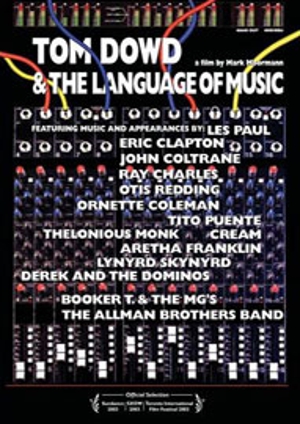 I stumbled upon the documentary Tom Dowd and the Language of Music last fall on the Sundance Channel and found myself captivated by this look at one of the greatest record makers of the last half century, a relatively unsung guy who played a crucial role in a mind-boggling number of important jazz, soul and rock records over the years. Now, finally, the 90-minute film is being made available by Palm Pictures on DVD, and it's well worth seeking out.
Dowd, who spent several decades as house engineer/staff producer at Atlantic Records (where during the late '50s he'd transition from The Drifters to Charles Mingus in the course of a single extended workday), was not only a studio wizard and trailblazer of multitrack recording, but also a remarkably affable guy. It seems every musician who worked with Dowd treasured the man as well as his talent, which the film demonstrates through the vivid recollections of Eric Clapton, members of Lynyrd Skynyrd, The Allman Brothers Band and, most significantly, Ray Charles, who tosses out a way-cool one-liner that sums up the movie: "I don't care if you got 90 tracks—what does it sound like, baby?"
Additionally, filmmaker Mark Moorman got illuminating takes from legendary Atlantic executives Jerry Wexler and Ahmet Ertegun, as well as fellow producers Phil Ramone and Arif Mardin. There's also plenty of terrific archival footage, providing close-up looks at such artists as Otis Redding and Aretha Franklin. Despite having to work with a severely limited budget, Moorman managed to shoot an impressive amount of footage of Dowd between 1996 and his death at age 77 in 2002. The producer is seen giving tours of the studios he worked in, telling rich stories about his experiences with Aretha and Cream (Dowd rescued "Sunshine of Your Love" from the dustbin of history when he suggested that drummer Ginger Baker try an American Indian beat on the track) and, most poignantly, sitting at the console in Miami's Criteria Studios and rolling the original multitrack tape as he relives the experience of producing Derek & the Dominos' sublime "Layla."
I wound up adoring this guy I'd never met and knew only by name from the credits gracing my most treasured albums, and I can now understand why the musicians he interacted with loved and revered him. If you have even a passing interest in the collaborative creative process, you must see this film.