Trachtenburg Family Slideshow Players to Tour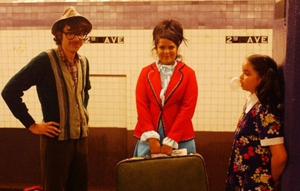 The Trachtenburg Family Slideshows Players are redefining the term "audience participation" to include onstage costuming on their 27 States of Vintage Fabric Tour '04.
The all-family band—Jason Trachtenburg on keyboards and vocals, wife Tina Piña Trachtenburg on vintage carousel slide projector and their 10-year-old daughter Rachel Piña Trachtenburg on drums—is calling on audience members at every stop on this tour to bring several yards of vintage fabric to be used to construct the band's next set of stage costumes. As always, the band's retro concert-wear is designed by Tina Piña, who also makes the collectible Rachel dolls.
The tour will feature all new material from the upcoming The Trachtenburg Family Slideshow Players, Vol. 2: Adventures in Middle America album, which is expected to be released after Christmas as the follow-up to last year's, Vintage Slide Collections From Seattle, Vol. 1.
In addition to her drumming, Rachel also contributes bass playing to the next album. The band's performances on this tour will reflect her multi-instrumental maturity, as she'll spend time on both drums and bass at these shows. Rachel posed with a guitar when she graced the cover of the inaugural issue of Time Out New York Kids last spring. At the same time, she was among "20 drummers that will rock your world" in the cover story of the spring issue of Rockrgrrl.
The Trachtenburg Family Slideshows Players Tour Dates and Locations:
10/10 – New York, N.Y. (B.B. King's)
10/15 – Arlington, Va. (Iota Café)
10/16 – Philadelphia, Penn. (North Star Bar)
10/18 – Rochester, N.Y. (George Eastman House)
10/19 – Albany, N.Y. (Linda Norris Auditorium)
10/20 – Buffalo, N.Y. (Tralfamadore Café)
10/21 – Cleveland Heights, Ohio (Grog Shop)
10/25 – Ferndale, Mich. (Magic Bag)
10/26 – Columbus, Ohio (Little Brothers)
10/27 – Dayton, Ohio (Canal Street Tavern)
10/28 – Chicago, Ill. (Hot House )
10/29 – Madison, Wis. (Orpheum Stage Door)
10/30 – Minneapolis, Minn. (Lee's Liquor Lounge)
11/01 – St. Louis, Mo. (Mad Art Gallery)
11/03 – Norman, Okla. (Opolis)
11/04 – Dallas, Texas (Sons of Herrman Hall)
11/05 – Austin, Texas (The Parish)
11/06 – Houston, Texas (Walters on Washington)
11/07 – New Orleans, La. (The Parish)
11/10 – Birmingham, Ala. (Work Play Theater)
11/12 – Tallahasee, Fla. (The Beta Bar)
11/13 – Orlando, Fla. (The Social)
11/14 – Gainesville, Fla. (Atlantic)
11/16 – Jacksonville, Fla. (Jack Rabbitts)
11/18 – Mt. Pleasant, S.C. (Village Tavern)
11/19 – Athens, Ga. (40 Watt)
11/20 – Atlanta, Ga. (Echo Lounge)
Got news tips for Paste? Email news@pastemagazine.com.
Others Tagged With