Undertow
Strange Sounds and Southern Fried Realism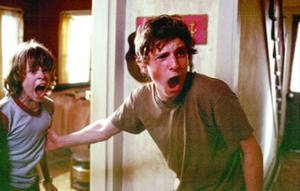 Indie filmmaker David Gordon Green mimics the buzzing hum of a didgeridoo, an Aboriginal instrument from Australia. He's demonstrating one of the many musical footnotes in his latest project, Undertow, a taut, emotional thriller set in the ghostly Southern city of Savannah, Ga. To the untrained ear, the didgeridoo's sound can best be described as a cross between a foghorn and an injured rhinoceros.
"It brings this weird primal, native texture to a lot of the [film's] scenes and adds a placeless-ness to it," elaborates Green as we chat in his New Orleans home. "I wanted an orchestral type of sweeping effect [with the music], but I also wanted to work on very subconscious, atmospheric undercurrents. I challenge anyone to tell what is music from sound design. A lot of it is this blend of room tones and ambiance that we turned into strange melodies. So it has an experimental quality. Like there's a French horn looped a million times and droned out and distorted so that it sounds like an air conditioner."
For Undertow, Green collaborated intensely with avant-garde legend Philip Glass, as well as the composers he used on his first two features—childhood friend David Wingo and Michael Linnen. In addition to didgeridoo, the team used bass guitar and tympani to color the film score—a lush, rolling mélange of moods—as well as found sounds from the local environs (including cars, trains, airplanes and, on occasion, chickens).
Aside from his creative approach to sound and music, the 29-year-old Green is known for breaking the mold with his non-traditional storytelling. The writer/director's 2000 debut, George Washington—which followed a group of neglected kids in rural North Carolina—was lavishly praised by critics for its subtle, intuitive approach. And All the Real Girls, a Sundance favorite in 2003, struck a chord with its unaffected portrait of fledgling romance. Green's distinct style has drawn comparisons to renegade Badlands director Terence Malick, who collaborated as a producer on Undertow.
"The idea was intimidating," says Green of working with such respected figures, "but the reality is they're just as funny and goofy and loveable and strange as the next guy. The day Philip came down to Savannah was the same day actor Bill McKinney played the grandfather. He was the rapist from Deliverance. And Malick, who is one of my idols, was also there. So you've got an actor, director and composer—basically three enormous inspirations in everything that I've done. I felt like I'd come of age that day."
Filled with adrenaline-fueled chase scenes and well-timed escapes, Undertow is a dark tale told from the perspective of the young-but-anxiety-prone Tim Munn (newcomer Devon Alan). The film—a throwback to classic thrillers like Cape Fear—plays more to psychological elements than pure terror, momentum building deliberately as a pair of young runaways struggle to survive, following an ill-fated clash at home. Young actor Jamie Bell, best known for capturing hearts as the star of Billy Elliot, plays an adolescent troublemaker with surprising vulnerability (and a convincing Southern accent to boot). Portraying alienated brothers, Josh Lucas (Secondhand Lions, A Beautiful Mind) and Dermot Mulroney (About Schmidt) illustrate the devilish underbelly of a testosterone-fueled sibling rivalry: jealousy, revenge and caged anger surface with a vengeance as the Munn family's tranquil, sheltered world is abruptly shattered.
Amidst the tension, Undertow portrays an unblemished, dreamy view of the Southern landscape, which its Arkansas-born, Texas-raised and North Carolina-educated filmmaker is strikingly familiar with.
"It's the episode of Dukes of Hazzard that David Lynch never got to make," Green jokes before waxing thoughtful one last time. "You see all the Steel Magnolias where people try to warm your heart with the yonders and how we still have slaves. But all that is so gross and boring and annoying to me. But the reality is, everything I've done is really low-budget so I don't have the resources at this point to get much farther than my backyard."
Others Tagged With