Johnny Cash
Lonesome In Black: The Legendary Sun Recordings (Union Square Music)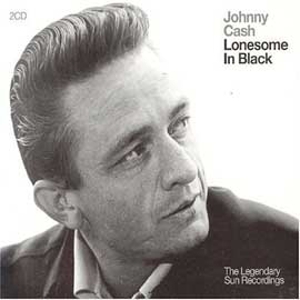 This definitive collection features Johnny Cash's recordings for the Sun Records label from 1955-1958. These stark classics serve as a strong foundation for Cash's undeniable legacy.
Born in Kingsland, Arkansas, John R. Cash joined the Air Force and spent his early years working odd jobs and honing his musical craft. On the wave of Elvis Presley's popularity, the 23-year old Cash walked into Sam Phillips' Sun Studio in Memphis, Tenn., and recorded the first batch of these 40 indelible compositions. Cash rotated many of them in his live repertoire throughout his prodigious career. Disc one contains "Cry Cry Cry," "Hey! Porter," "Get Rhythm," "I Walk the Line," "Give Me A Rose" (re-recorded for his last album, The Man Comes Around), "Big River," "Luther Played the Boogie," "Mean Eyed Cat" and "Folsom Prison Blues."
Neither time nor space allots for the long list of talented musicians who have covered these songs. Bob Dylan speaks with enthusiasm of Cash's days at Sun in his new book, Chronicles: "I always thought Sam Phillips created the most crucial, uplifting and powerful records ever made. 'I keep a close watch on this heart of mine.' Indeed. I must have recited those lines to myself a million times."
Timeless classics on disc two include "Always Alone," "Blue Train," "Fool's Hall of Fame," "Leave That Junk Alone" and "New Mexico." Sam Phillips refused to increase Cash's royalties or allow him to record gospel songs, consequently spurring the future legend to depart Sun for Columbia Records.
The Legendary Sun Recordings provides a clear view of Johnny Cash's musical vision, and is an important document of a country pioneer coming into his own as an artist.
Others Tagged With