Gilead
by Marilynne Robinson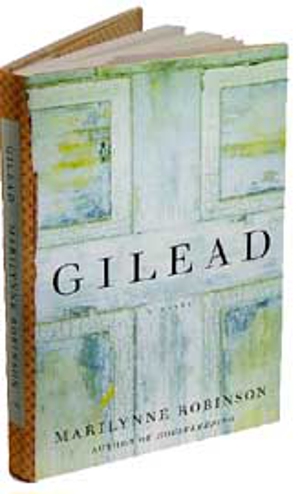 For Ruth, the adolescent narrator in Marilynne Robinson's first novel, Housekeeping (1980), water figures as a destructive force, a drowner of towns and persons, but also as a source of possible resurrection. The book itself—now an acknowledged classic—has had a similarly multivalenced effect on a generation of readers struck by its spare, shimmering depths. Robinson's subsequent books were equally surprising in their own way. After Housekeeping came a series of reports on nuclear pollution in England, published in 1989 as Mother Country, an eloquent, polemical elucidation of the connection between British social thought, the welfare state and pollution of the Irish Sea. More nonfiction followed, culminating in the astounding Death of Adam (1998), an unexpected but convincing declaration of love for John Calvin.
Robinson has received relatively little credit for becoming possibly our greatest living essayist—perhaps because no summary can capture her nonfiction's intricacy and passion, and perhaps because so many people were waiting with bated breath for another novel like Housekeeping. So now she presents us with Gilead, a beautiful epistolary novel that reads variously like an essay, a memoir, a theological tract and a prose poem.
Gilead purports to be a long letter written in 1956 by Reverend John Ames to his young son, as Ames is dying. In this manner, Robinson braids together several narrative and intellectual strands: Ames' grandfather's violent opposition to slavery (John Brown features); the pacifism of the post-Civil War generation; Ames' marriage to a much younger woman; the Midwest's secret history as a zone of anti-slavery settlements; and Ames' corrupt godson who reenters his life and may have designs on Ames' family. While the latter subplot is the novel's through-line, Gilead is not about overt suspense. It's an old man's attempt to reconcile himself with death, a drama of inner conflict like The Tempest or Oedipus at Colonus. Thus Robinson examines her own obsessions, which are life's profoundest: sin, repentance, redemption, death, life, resurrection. By inhabiting John Ames—which she does, wholly and effectively—she's never more fully herself.
Others Tagged With