An Evening With Mark Olson & Gary Louris
Bowery Ballroom, New York 3/2/05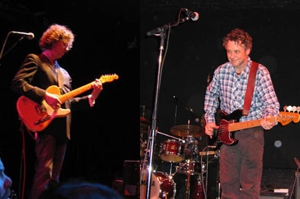 Things seem to come in tens for the Jayhawks. In February 1985, they blossomed out of the Minneapolis music scene. Fast forward to 1992. The band puts out its finest album, Hollywood Town Hall, with ten classic songs. In 1995, approximately ten years after the Jayhawks formed, Gary Louris and Mark Olson would record their last album together, Tomorrow the Green Grass (which would feature a song called "Ten Little Kids"). Jump ahead approximately ten years, and find yourself at the opening night of a three-show run at New York City's famed Lower East Side haunt, the Bowery Ballroom. You'll two old friends—Gary and Mark—reunited on stage, smiling, and lovingly remembering the good old times.
Without pause, Louris (on Fender Telecaster) and Olson (on Fender bass) launch into "Pray For Me" from Green Grass, slowed down to a stroll, with its distinctive Byrds-meets-Youngbloods guitar riff and close-knit harmonies. "I'd Run Away" comes next with its unabashedly young-and-in-love lyrics. Louris, who has moonlighted as a Jayhawk in the years since Olson's departure, plays choice cuts from his critically acclaimed Rainy Day Music (which Olson, at one point, refers to as "Rainy Day Women"). "One Man's Problem," "Angelyne" and "Tailspin" all make their way into the set. A woman in the audience requests "Save It For a Rainy Day," to which Louris embarrassedly replies, "I broke my acoustic guitar." (He breaks a string on his acoustic guitar midway through the show and has to ditch the instrument.) Later, though, he plays the number on his electric guitar, giving it a richer, rockier tone.
But the bulk of the songs in the set are real Jayhawks tunes from the first four albums (with a few rarities mixed in, like the Olson-sung "East Berlin"). The crowd, which is composed of mostly older fans, livens up when the two old friends launch into probably their most famous song, "Blue." "Sister Cry" is slower and groovier and starts and restarts, because Louris realizes that he has the wrong harmonica in his harmonica rack. Also dusted off are "Crowded in the Wings," the majestic "Waiting for the Sun" (during which Louris throws the "Sister Cry" harmonica into the crowd, spit flying everywhere, and it is caught by the fellow behind me), "Two Angels," the guitarist's nimble fingers still hitting the guitar solo note for note, and my personal favorite, "Clouds."
After disappearing backstage for ten minutes, Olson first, then Louris, returns to the stage for a five-song encore filled with diamonds like "Settled Down," "Take Me With You (When You Go)," and "Five Cups of Coffee," from the Blue Earth album. After the house lights go up, Olson jumps down from the stage to sign autographs and talk with members of the crowd. With the audience's thunderous applause following the final notes played, it's obvious that the show was nothing short of a ten out of ten.
Others Tagged With