Heavy Trash
Diving In The Rockabilly Dumpster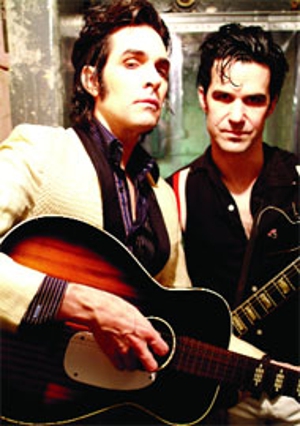 Above photo: Matt Verta-Ray, John Spencer
A few years ago, Matt Verta-Ray was backing '60s crooner Freddy 'Boom Boom' Cannon, who was experiencing a brief resurgence after being namechecked in Chuck Barris biopic Confessions Of A Dangerous Mind. Cannon wanted his early hits like "Palisades Park" to sound more grunge-modern, but the Speedball Baby guitarist had other ideas.
"I happened to be wearing a bowling shirt onstage one night, and I usually have a pompadour," Verta-Ray says, chuckling. "Freddy gets it in his head that I'm rockabilly-ing up his whole scene. I played some cool solo, and he turns to me in between songs and says into the mic, 'This guy over here is a rockabilly fanatic!'"
And not only is he a rockabilly fanatic, he's a rockabilly scientist," adds Blues Explosion barnstormer Jon Spencer, Verta-Ray's current partner in sonic crime. "He knows how to get all those old sounds."
The duo—billing itself as Heavy Trash—has concocted a sweet Sun Session feel on its eponymous Yep Roc debut. The 13 slapback-echo tracks are filled with the Gretsch-chiming sounds of yesteryear and Spencer's hiccupy hepcat, howl. There's even a retro-campy rockabilly novelty song called "Gatorade" that'd make Cannon lemon-lime with envy.
Verta-Ray and Spencer first teamed up on Explosion/Speedball tours a couple years back, twangin' out '50s covers backstage. "And because we both dug rockabilly so much, we started hanging out, writing together and knocking around ideas," explains Spencer, who's plotting an intimate-venue Heavy Trash tour (with The Sadies as backup) before reconvening Blues Explosion. "And for a long time, more than anything, I think it was just social. But because Matt had his own studio, we started slowly putting things down on tape, and that slowly grew into the actual album. And that's what's made this such a nice project, overall—it's been so friendly and relaxed."
Others Tagged With