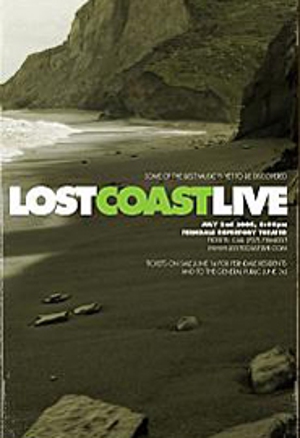 The bathroom floors of the Ferndale, Calif., Repertory Theater aren't covered in urine. It's a sold-out show, but the patrons sit in comfortable chairs instead of standing for two hours; they sip fine wines instead of sloshing PBR on their neighbors. The stage set is ornate with a 15-foot video screen with a subtly lit faux-gilded frame. The sound and lighting couldn't be more professional.
These touches help explain why the crowd of mostly 40-somethings and 50-somethings didn't balk at the $25 to $40 tickets without being told who's playing tonight. This is the inaugural night of Lost Coast Live, put on by DC3 Entertainment (Paste's parent company).
Those in attendance are rewarded for their trust after a brief video bio of the evening's first performer. Tommy Sims has played bass with Bruce Springsteen and Stevie Wonder. He's produced India.Arie. He won a songwriting Grammy for the Eric Clapton-recorded "If I Could Change the World."
He's charming, funny and exudes soul, seemingly without even trying. His own songs, including those penned for folks like Garth Brooks and Cliff Richards, are heartfelt and direct, and he plays them with their original fire. At the end, the crowd is out of its plush seats for an ovation.
The mystery headliner is Willy Porter, another artist that most of the crowd has never heard of and probably wouldn't have bothered discovering if not for the event's unique setup. Both Sims and Porter played the local free-form radio station, KHUM, answering questions from a radio DJ who was still a little perplexed about having to hide their identities. But the idea behind Lost Coast Live is musical discovery—something the older audience probably hasn't experienced in a while.
If Sims charmed the audience, Porter amazed them. The looping rhythms that have become fairly common with folks like Keller Williams, Joseph Arthur and Howie Day were still novel in this small Northern California coastal town and and were also buoyed by Porter's guitar wizardry. Part storyteller, part sketch comic, the Wisconsin native incorporated audience suggestions like Ferndale, Holstein cows and "sex on a fire engine" into an improvised song. It was such a hit that someone gave him a Ferndale Volunteer Fire Department sweatshirt as soon as the song ended.
It was this love between performers and audience and those putting on the show that made for an unusually special night in this tiny town. When Sims joined Porter for an encore of "Drift Away," it was obvious that all in attendence appreciated their new discoveries.